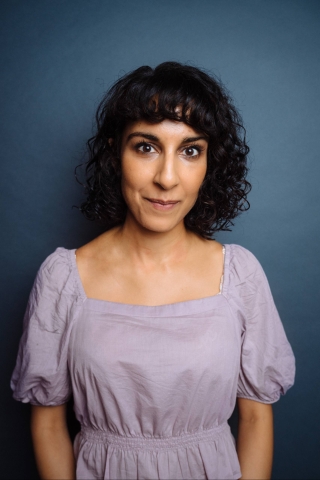 Mariam Haque
For the Royal Court: Living Newspaper Edition 2.
Other theatre includes: Folk (Hampstead); When the Crows Visit (Kiln); Dara, Behind the Beautiful Forevers (National); Romeo and Juliet, Macbeth (RSC); Home Truths (Cardboard Citizens, Bunker); Diana of Dobson's (New Vic); Almost Near, Hurried Steps (Finborough); The House of Bilquis Bibi (Hampstead & Tamasha); Crossed Keys (Eastern Angles); Invasion! (Tooting Arts Club); Monster Under the Bed (Polka); Au Revoir Les Enfants (Tour de Force).
Television includes: Live at the Moth Club, Midsomer Murders, Plebs, Ladhood, Henpocolaypse, Worzel Gummidge, This is Going to Hurt, Pls Like, Finding Alice, Trying, Flowers, Black Mirror: Shut Up and Dance, Doctors, Eastenders, Holby City, Hunted.
Film includes: What's Love Got to Do With it?, Down from London, Benjamin, Undercliff, Smear, Lost Paradise.
Radio includes: The Listening Project.