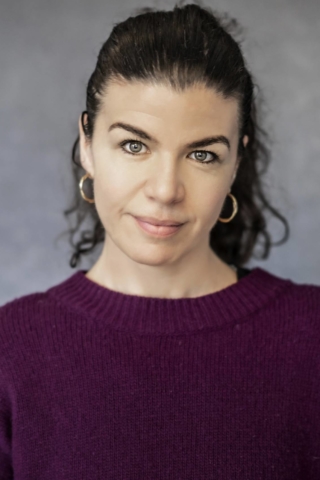 Sirine Saba
For the Royal Court: Goats, The Crossing Plays (& LIFT), Fireworks.
Other theatre includes: The Haystack, Botticelli in the Fire, The Intelligent Homosexual's Guide to Socialism & Capitalism (Hampstead); Testing The Echo (& Out of Joint), Wife (Kiln); The Winter's Tale, King Lear, Holy Warriors, Anthony & Cleopatra (Globe); Why It's Kicking Off Everywhere (Young Vic); Another World, Nation, Sparkleshark (National); The Invisible (Bush); Next Fall (Southwark); The Winter's Tale, A Midsummer Night's Dream, The Taming of the Shrew, Twelfth Night, HMS Pinafore (Regent's Park Open Air); The Fear of Breathing (Finborough); Scorched (Old Vic Tunnels); Baghdad Wedding (Soho); Beauty & the Beast, Midnight's Children, Pericles, The Tempest, The Winter's Tale, A Midsummer Night's Dream, Tales From Ovid (& Young Vic), A Warwickshire Testimony (RSC); Cinderella (Bristol Old Vic); House & Garden (Royal & Derngate, Northampton).
Television includes: Doctor Who, Holby City, Cleaning Up, Why It's Kicking Off Everywhere, EastEnders, Unforgotten, Doctors, I Am Slave, Silent Witness, Footballer's Wives, The Bill, Prometheus.
Film includes: The Black Forest, Exhibition, Maestro, Death of the Revolution.
Radio includes: Miriam & Youssef, Savages, A Broken Heart in a Warzone, The Bethlehem Murders, Birth, Borderland, World on the Move: First Born, Wide Sargasso Sea, The Listening Project, Welcome to Zaatari, Tumanbay, Trespasser's Guide to the Classics: 1001 Nights, Something Understood, Anthony & Cleopatra, From Fact to Fiction, The Brick, The Outsider, The Insider, The Reluctant Spy, The Deportation Room, In the Van, Marley Was Dead, My Daughter the Racist, The Smell of Fish, The Casper Loague Affair (Arabian Afternoons), A Dish of Pomegranates, The Porter & the Three Ladies, English in Afghanistan, The Locust & the Bird, Beirut Days, The Waves, The Invasion: Arab Chronicles of the First Crusade, The Night of the Mirage, Baghdad Wedding, Love & Loss.