Emma Dennis-Edwards' Writing Exercise
Emma Dennis-Edwards is a Writer/Performer of Jamaican and Trinidadian heritage.
Emma's play BRICKS which she wrote as part of the Old Vic 12 was shortlisted for the Alfred Fagon Award in 2020. In 2018 Emma's play Funeral Flowers (which Emma wrote and stars in) was performed at the Edinburgh Fringe Festival 2018 and won the Scotsman's Fringe First Award and the Filipa Bragança award for best female solo performance. It has since enjoyed sold-out London transfers to The Bunker, Free Word Centre, Bernie Grant Arts Centre, The Roundhouse and Hackney Empire.
In addition to her writing for theatre, Emma also writes for television; she was selected for the BBC Studios Writers Academy 2019 and has written episodes of EastEnders and Holby City.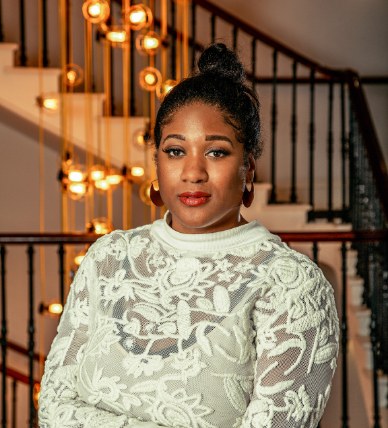 Writing Exercise One:
Everyone needs to complete the sentence "If I were Prime Minister…" and continue writing. This is a free writing exercise so let your pen and imagination flow. This might be you writing from a more personal level, a list, or even creating a manifesto allow this exercise to take you wherever it takes you.
Writing Exercise Two:
World Map, I want us to think about our journeys to here. Physically as well as spiritually.
I would like you to make a list based on my questions:
· Where are you now?
· Where was your first family home?
· Where were your born?
· Where was your mother born?
· Where was your father born?
· Where was the first place you visited away from where you were born?
· Where would you like to visit?
· Where do you feel safe
Taking one of those questions, see what you have written. Think about the location that intrigues you the most and choose a character who might exist in this space. Write a monologue in this character's voice. Set a time limit (I would say 20 minutes max) and see where you get to.