Insight Workshops offer an in-depth look at current Royal Court productions. Work with a member of the creative team and explore the writing & rehearsal process and themes of the play.
Upcoming Insight Workshops:
Anthony Neilson on Writing
Rehearsal Room, Royal Court Theatre
Free but booking required. Limited to one ticket per person.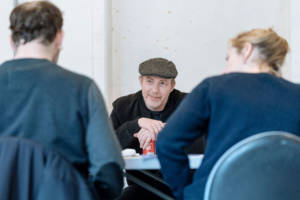 Led by The Prudes writer & director Anthony Neilson, this is a unique opportunity to experience his work first hand. Anthony's previous work at the Royal Court includes Unreachable, The Get Out.
Ages 26+ | Mon 14 May, 7.30pm – 9pm
Young Court Friends* ages 18-25 | Fri 18 May,  6pm – 7.30pm
*To book you will need to be a Young Court Friend & sign in to your online account. To join the Young Court Friends scheme for free, click here.
Past Insight Workshops:
Hamish Pirie on Directing
Royal Court Associate Director and director of Instructions for Correct Assembly Hamish Pirie leads workshops on directing.
Young Court Friends ages 14-18 | Mon 23 Apr, 6 – 7.30pm
Young Court Friends ages 19-25 | Wed 25 Apr,  6 – 7.30pm
Ages 26+ | Fri 27 Apr, 7 – 8.30pm
Testament on Writing
Thu 5 Apr, 6pm – 7.30pm
Rehearsal Room, Royal Court Theatre
Spoken word poet, rapper and writer of Black Men Walking, Testament leads a workshop exploring writing and using spoken word, poetry and rap in a performance context.
Free but booking required. For people aged 18-26 only.
Simon Longman on Writing
Wed 28 Feb 2018, 7pm – 8.30pm
Rehearsal Room, Royal Court Theatre
A writing workshop led by Gundog writer Simon Longman. Simon took part in the Royal Court Theatre's Young Writer's Programme in 2013 and has since won the Channel 4 Playwright's Scheme. His produced work includes White Sky (Royal Court/RWCMD), Sparks (Old Red Lion) and Milked (Pentabus).
Jude Christian on Monologues
Tue 16 Jan 2018
A workshop led by My Mum's A Twat director Jude Christian discussing the context of the play and exploring writing monologues and autobiographies.
Goats and The Media
Fri 8 Dec 2017
A workshop led by Young Court workshop leader Ellie Fulcher contextualising Liwaa Yazji's Goats and exploring the media's influence on the public.
To find out more about Insight Workshops contact [email protected]