Cast Announced for Rare Earth Mettle by Al Smith
Published on Thu 7 Oct 2021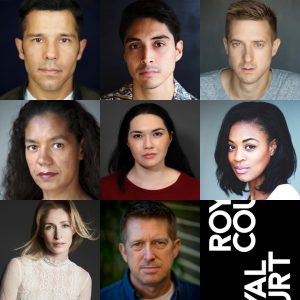 Carlo Albán, Marcello Cruz, Arthur Darvill, Jaye Griffiths, Lesley Lemon, Racheal Ofori, Ian Porter and Genevieve O'Reilly have been cast in the world premiere of Rare Earth Mettle written by Al Smith and directed by Royal Court Associate Director Hamish Pirie. With set design by Moi Tran, lighting design by Lee Curran, composition by Carlos Gutiérrez Quiroga, sound design by Ella Wahlström, movement direction by Yami Löfvenberg, dialect coaching by Carter Bellaimey and assistant direction from Camila Ymay González.
Rare Earth Mettle by Al Smith will run at the Royal Court Theatre Jerwood Theatre Downstairs from Wednesday 10 November 2021 – Saturday 18 December 2021
Rare Earth Mettle has been generously supported with a lead gift from Charles Holloway. Further support has been received from Cockayne Grant for the Arts, a donor advised fund of The London Community Foundation. It is a recipient of an Edgerton Foundation New Play Award.
It was a co-commission by the Royal Court Theatre, London and Center Theatre Group, Los Angeles, California.
To find out more about the show and to book tickets, click here.
Read the full press release here.