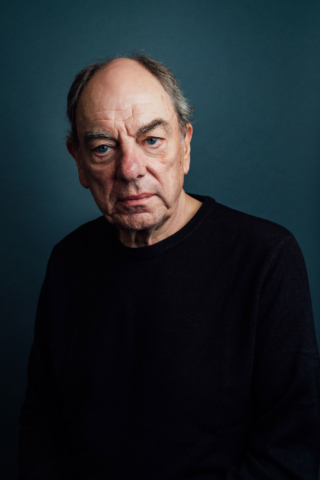 Alun Armstrong
For the Royal Court: Cromwell, Mother's Day, The Changing Room.
Other theatre includes: Exit the King (Theatre Royal, Bath); The Royal Hunt of the Sun, Death of a Salesman, Sweeney Todd, The Father, The Passion (National); The Front Page, Endgame, Insignificance (Donmar); The Baker's Wife (West End); The Jew of Malta, Fashion, Les Misérables (& West End), Troilus & Cressida, The Winter's Tale, The Crucible, The Taming of the Shrew, The Tempest, Nicholas Nickleby (& Broadway), Bastard Angel, The Loud Boys Life, Much Ado About Nothing (RSC).
Television includes: Frontier, Prime Suspect 1973, Dark Angel, Broken Biscuits, The Country Woman, Golden Years, Downton Abbey Christmas Special, Penny Dreadful, The Hollow Crown, Edwin Droof, New Tricks, Garrow's Law, A Passionate Woman, Little Dorrit, The Dinner Party, Filth: The Mary Whitehouse Story, Kid of Chernobyl, Bleak House, When I'm Sixty-Four, Between the Sheets, Carrie's War, The Inquisition, Sparkhouse, Bedtime, Messiah II, Waiters, The Cappuccino Years, Score, David Copperfield, Oliver Twist, This is Person, Aristocrats, In the Red, Underworld, Brazen Hussies, Tales from the Crypt, Breaking the Code, Les Misérables, Witness Against Hitler, Sorry About Last Night, Our Friends in the North, Doggin' Around, MacGyver, Goggle Eyes, The Life & Times of Henry Pratt, Married with Children, Goodbye Cruel World, Stanley & the Women, Murder in Eden, Sticky Wickets, A Night on the Tyne, This is David Lander, No: 27, Bulman, Sharing Time, Nicholas Nickleby, Get Lost, Only Make Believe, Shooting the Chandelier, Days of Hope, The Stars Look Down, All Day on the Sands, Our Day Out, Measure for Measure, Sharp Intake of Breath, Z Cars, Enemy at the Door, Play for Today, Centre Play, Romance, Porridge, The Squirrels, The Sweeney, Public Eye, Father Brown, Justice, General Hospital, Villains, Advent of Steam.
Film includes: Possum, Funny Cow, Out of Innocence, Golden Years, Eragon, Oliver Twist, Millions, Van Helsing, Paradise Found, It's All About Love, The Mummy Returns, Proof of Life, Harrison's Flowers, Strictly Sinatra, Sleepy Hollow, Greenwich Mean Time, With or Without You, Onegin, The Saint, Braveheart, An Awfully Big Adventure, Black Beauty, Blue Ice, Patriot Games, Split Second, London Kills Me, The Widow Maker, American Friends, The Child Eater, White Hunter Black Heart, That Summer of White Roses, Billy the Kid & the Green, Baize Vampire, Krull, The French Lieutenant's Woman, The Duellists, The Likely Lads, Existence, A Bridge Too Far, Get Carter.
Awards include: Olivier Award for Best Actor in a Musical (Sweeney Todd).