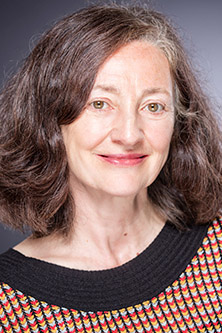 Bríd Brennan
For the Royal Court: Bliss, Woman & Scarecrow, Bone, Bailegangaire.
Other theatre includes: A Particle of Dread – Oedipus Variations (Signature, New York/Playhouse, Derry); All My Sons (Regent's Park Open Air); Sweet Bird of Youth (Old Vic); Desolate Heaven (503); Farewell (Derry); Henry V (Globe); The Veil, Pillars of the Community, Rutherford & Son (National); Philadelphia Here I Come (Gaiety); Dallas Sweetman (Paines Plough); Brendan at the Chelsea (Riverside); Intemperance (Liverpool Everyman); Silver Birch House (Arcola); Doubt (Abbey, Dublin); By the Bog of Cats, Absolutely! (Perhaps) (West End); The Cosmonaut's Message to the Girl He Once Loved, The Dark, The Little Foxes, A Kind of Alaska (Donmar); La Lupa,
Macbeth (RSC); Smelling a Rat (Hampstead); Dancing at Lughnasa (Abbey, Dublin/National/West End/Broadway); Edward II (Royal Exchange, Manchester); Playboy of the Western World (Druid/Donmar).
Television includes: HG Wells – A Devotee of Art, The Escape Artist, Quirke, Upstairs Downstairs, Little Crackers, South Riding, Doctor Who, Father & Son, Trial & Retribution, Any Time Now, The Hidden City, Cracker, Tell Tale Hearts, The Daily Woman, Four Days in July, The Billy Plays, Ballroom of Romance, Sunday.
Film includes: Florence Foster Jenkins, The Truth Commissioner, Brooklyn, Shadow Dancer, Sunday, Felicia's Journey, Topsy Turvy, Dancing at Lughnasa, Trojan Eddie, Guinevere, Anne Devlin.
Awards include: Tony Award for Best Featured Actress (Dancing At Lughnasa); IFTA for Best Actress, EIFF for Best Actress (Shadow Dancer).