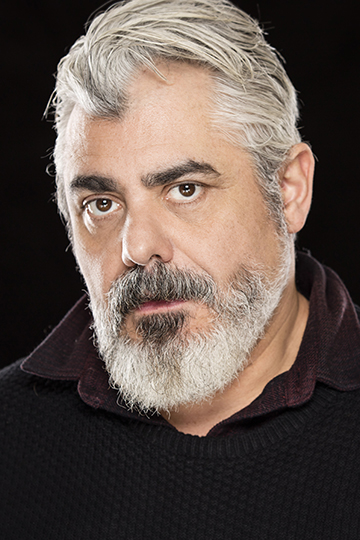 Darrell D'Silva
For the Royal Court: The Lying Kind.
Other theatre includes: Wendy & Peter Pan, Little Eagles, Antony & Cleopatra, King Lear, Julius Caesar, The Drunks, The Winter's Tale, Hecuba, A Midsummer Night's Dream, A Month in the Country, Troilus & Cressida, Camino Real, The Spanish Tragedy, Henry VIII, Doctor Faustus (RSC); Dunsinane (RSC/National Theatre of Scotland/World Tour); Making Stalin Laugh (JW3); Public Enemy, Six Characters in Search for An Author (Young Vic); Hedda Gabler (Old Vic); Children's Children (Almeida); Paradise Lost (Theatre Royal, Northampton); Closer, Tales from Vienna Woods, The Rose Tattoo, The Royal Hunt of the Sun (National); Absolutely! (Perhaps) (West End); The White Devil (Menier Chocolate Factory); Fall (Traverse); Clouds (UK Tour); Tear from a Glass Eye (Gate); Romeo & Juliet, The Three Musketeers (Crucible Sheffield); Further than the Furthest Thing (Tron); Crossfire (Plaines Plough); Chasing the Moment (One Tree).
Television includes: Endeavour III, Asylum, Father Brown, Top Boy 2, The Minor Character, Trial & Retribution, Bonekickers, Criminal Justice, Unsinkable Titanic, A Very British Sex Scandal, Poppy Shakespeare, First New Heart, Saddam's Tribe, To Be First, Krakatoa, Eleventh Hour, Spooks, Lawless, Messiah, Cambridge Spies, Dinotopia, Table Twelve: After Hours, Queen of Swords, The Bill, In Defence, Out of the Blue, Woken Well, Prime Suspect, Faith.
Film includes: The Throwaways, Alan Moore's & Mitch Jenkins' Show Pieces, Northmen: A Viking Saga, Montana, Closer to the Moon, Dirty Pretty Things.
Radio includes: Doctor Zhivago, A Suit of Lights, Cry Wolf, A Game of Three Halves.