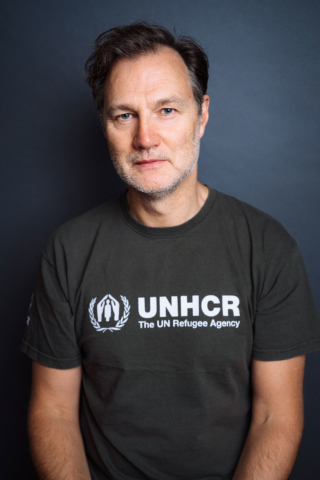 David Morrissey
For the Royal Court: Hangmen (& West End).
Other theatre includes: Julius Caesar (Bridge); Macbeth (Liverpool Everyman); In a Dark Dark House (Almeida); Three Days of Rain (Donmar); Much Ado About Nothing (West End); Peer Gynt (National); King John, Henry VI, Edward IV, Richard III (RSC); The Cabinet Minister (Royal Exchange, Manchester); Ghetto (Riverside Studios); El Cid, Twelth Night (Cheek by Jowl); Jug (Theatre Royal, Stratford East); WC/PC (Liverpool Playhouse).
Television includes: The Singapore Grip, Inside No.9, Britannia, The City & the City, The Missing, Extant, The Driver, The 7.39, The Walking Dead, True Love, London's Burning, Richard II, Field of Blood, South Riding, Scaredycat, Sleepyhead, Murder on the Orient Express, 5 Days, U Be Dead, The Red Riding Trilogy, Doctor Who, Sense & Sensibility, Cape Wrath, Ripley's Gold, Blackpool, The Deal, State of Play, Out of Control, Clocking Off, Murder, Pure Wickedness, Big Cat, Our Mutual Friend, Holding On, Out of the Blue, The One That Got Away, Available Light, Cause Celebre, One Summer.
Film includes: The Ones Below, Welcome to the Punch, Earthbound, Blitz, Nowhere Boy, Centurion, Mrs Mandela, Is Anybody There?, The Other Boleyn Girl, The Water Horse, The Reaping, Basic Instinct 2: Risk Addiction, Derailed, Stoned, This Little Life, Captain Corelli's Mandolin, Hilary & Jackie, Born Romantic, Card of Death, Fanny & Elvis, The Commissioner, Some Voices, Being Human, Waterland, Robin Hood, The Widow Maker, Drowning by Numbers.
As director, film includes: Bring Me Your Love (short), Sweet Revenge, Don't Worry About Me, Passerby, A Secret Audience (short).
Awards include: RTS Award for Best Actor (The Deal).