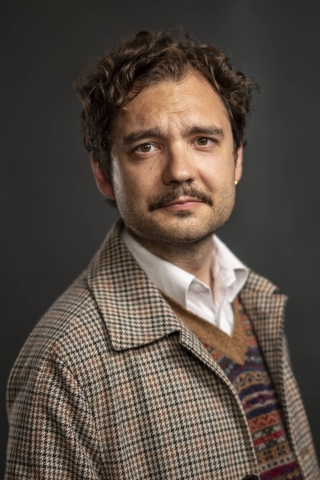 George Fouracres
Theatre includes: The Comedy of Errors, The Tempest, Much Ado About Nothing, Hamlet, Twelfth Night, A Midsummer Night's Dream (Globe); A Midsummer Night's Dream (Filter Theatre) The Diary of a Nobody (Rough Haired Pointer); Scrooge & Marley (Dippermouth).Television includes: Don't Hug Me I'm Scared, Semi-Detached, Spitting Image, Whiskey Cavalier, Pls Like, Comic Relief, Drunk History, Raised by Wolves, The Scandalous Lady W.
Film includes: Accident Man: Hitman's Holiday. Comedy includes: George Fouracres: Gentlemon, The 'Best' of Daphne, Daphne in the Moonlight, Daphne's Second Show, Daphne Do Edinburgh, Nova! Nova!.
Radio includes: George Fouracres: Black Country Gentlemon, The Now Show, Alexei Sayle's Absence of Normal, The Wilsons Save the World, The Lenny Henry Show, Always June, Claire in the Community, Vip Rip, Eastenders: The Podcast, Britain in Bits with Ross Noble, Jake Yapp's Media Circus, Lenny Henry's Rogues Gallery, Daphne Sounds Expensive, Spotlight Tonight with Nish Kumar, Newsjack.