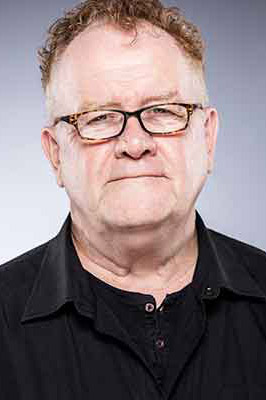 Ian Redford
For the Royal Court: Bruises, Built on Sand, William, The Plague Year, Irish Eyes & English Tears.
Other theatre includes: Mad World My Master, The Roaring Girl, Arden of Faversham, The Witch of Edmonton, Candide (RSC); All My Sons (Leicester Curve); A View From The Bridge, The Gatekeeper, Dr Faustus, Antigone (Royal Exchange, Manchester); A Dish of Tea with Dr Johnson (& co-writer), Rita, Sue & Bob Too!, A State Affair, The Permanent Way, Some Explicit Polaroid, Our Country's Good, Shopping & Fucking, A Laughing Matter (Out of Joint); Robin Hood (Cambridge Arts); Brimstone & Treacle (Arcola); Six Degrees Of Separation (Old Vic); Helen, Romeo & Juliet (Globe); She Stoops To Conquer, Free, Love The Sinner, Mother Clap's Molly House (National); Tiger Tail (Drum); Chapter Two, Madame Butterfly (West End); Agammemnon's Children (Gate); Whose Life Is It Anyway?, The Merchant of Venice (Birmingham Rep).
Televison includes: New Tricks, Henry VIII, The Devil's Whore, Heartbeat, Doctors, The Chase, Party Animals, Animals, Coronation Street, Derailed, Missing, William & Mary, Regicide, The Prince & The Pauper, Trial By Fire, Second Sight, One Foot In The Grave, Animal Ark, Stone Scissors Paper, Wycliffe, Family Style, I.D., House of Elliot, Foyle's War, Statement of Affairs, The Bill, Moon & Son, The Men's Room, Medics, Van Der Valk, Antonia & Jane, Minder, Thin Air, EastEnders, Bust, Dramarama.
Film includes: HHHH, Mary & Martha, The Legend of Boogeyman 4, She Stoops To Conquer, Remains of the Day, Just Like a Woman, Three Men & A Little Lady, Getting It Right, The Great Escape.