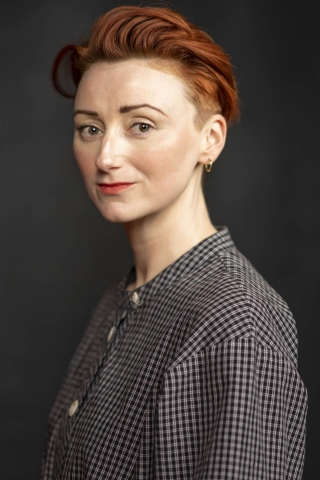 Jodie McNee
For the Royal Court: Anatomy of a Suicide, Maryland. 
For the Liverpool Everyman & Playhouse:  My White Best Friend, Canary, When We Are Married, Twelfth Night. 
Other theatre includes: Orlando (MGC); Adult Children (Donmar); Faustus That Damned Woman (Headlong); Nora A Doll's House, The Night Watch, Hamlet, Orpheus Descending, A Taste of Honey (Royal Exchange, Manchester); An Oak Tree, Our Country's Good, Three Winters (National); Game (Almeida); Venice Preserved, A Life of Galileo, Written on the Heart, Measure for Measure (RSC); Hobson's Choice (Regent's Park Open Air); The Empty Quarter (Hampstead); When We are Married (West End); The Frontline, King Lear (Globe); Seagull, Knives in Hens, Double Portrait, Jenufer (Arcola); Cymbeline, The Changeling (Cheek by Jowl/Barbican/International tour); Mother Courage, This Happy Breed (ETT); The Burial at Thebes (Playhouse, Nottingham).   
Television includes: Breathtaking, Mrs Sidhu Investigates, Culprits, Hollington Drive, Anthony, Unprecedented/Fear Fatigue, Britannia 1-3, Agatha and the Death of X, Vera, Little Boy Blue, Ripper Street, Criminal Justice, Poirot.  
Film includes: Judy, Official Secrets, Film Stars Don't Die in Liverpool, The Physician, Collider, One Happy Moment, A Picture of Me.  
Radio includes: The American Grandmother, Zola: Blood Season, With Great Pleasure.