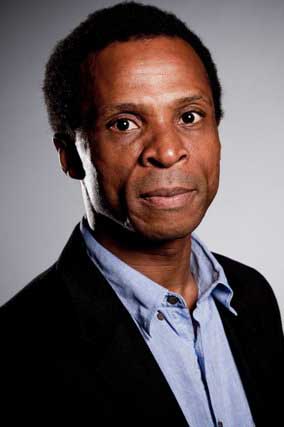 JUDE AKUWUDIKE
FOR THE ROYAL COURT: Marching for Fausa, The Recruiting Officer/Our Country's Good (with Out of Joint).
OTHER THEATRE INCLUDES: Passing Wind (Pulse Festival, New Wolsey Theatre/Talawa Theatre Company); Great Expectations (English Touring Theatre/Watford Palace Theatre); Othello (Glasgow Citizen's Theatre); The Rime of the Ancient Mariner (Young Vic/Southbank Centre); Iya-Ile (Tiata Fahodzi/Soho); Walking Waterfall (Tiata Fahodzi/Almeida); The Resistible Rise of Arturo Ui (Lyric Hammersmith); God in Ruins (RSC/Soho); Macbett, Macbeth, Pericles, The Winter's Tale, Luminosity (RSC); The Overwhelming (Out of Joint/National); Pericles (Shakespeare's Globe); Edmond, Henry V, Honk! The Ugly Duckling, The Machine Wreckers, Richard II, Ion (National); Not About Nightingales (National/Broadway);Young Hamlet (Young Vic); A Doll's House (Shared Experience); Nuremberg & 3 Responses,  A Long Way From Home (Tricycle); Poor Superman (Traverse/Hampstead); Wiseguy Scapino (Theatre Clwyd); Light in the Village (Traverse); Death and the King's Horseman (Manchester Royal Exchange); The Relapse (Birmingham Rep); Master Harold and the Boys (Bristol Old Vic); The Fatherland (Riverside Studios); Moon on a Rainbow Shawl (Almeida); The Park (Sheffield Crucible).
TELEVISION INCLUDES: Law & Order, Holby City, The No. 1 Ladies Detective Agency, Moses Jones, Silent Witness, Bad Girls, The Last Detective, Ultimate Force, Roger Roger, The Mahabharata, Land of Dreams, Madmen and Specialists, Downtown Lagos, Virtual Murder, Bad Girl, Sam's Duck, The Bill, Between the Lines, A Likeness in Stone.
FILM INCLUDES: The Plan, The Tempest, Touched by a Stranger, Whisper the Way of the Child, Sahara, A World Apart.
RADIO INCLUDES: (Member of BBC Radio Drama Company 2010-2011) Anatomy of a Disappearance, Why is the Sky So Blue, World Service African Service, Nyama, Fences, Of Mice and Men, The Lady of Kingsland Waste, The Black Bono, Point of Departure, Dolly, Scoop, The Thebans, The No. 1 Ladies Detective Agency, Tide Race, Jero, Humans and Other Animals, A Thorn in the Flesh, Anthills of the Savannah, Out of Hours, Westway, Measure for Measure, The Other Side of the Truth.