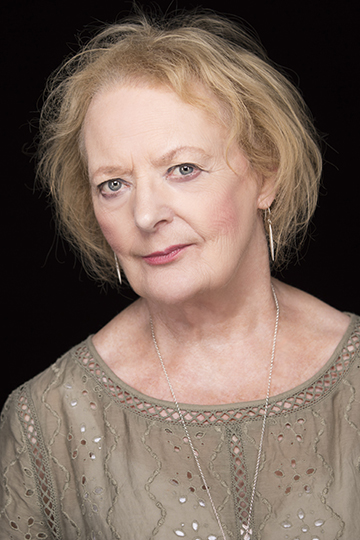 June Watson
For the Royal Court: Escaped Alone (& BAM, NYC/UK tour), Talking to Terrorists (& Out of Joint/UK tour), Sliding with Suzanne (& Out of Joint/Teatro do la Abadia/UK tour), Kosher Harry, Beside Herself, Saved, Small Change (& National), Life Price, Glasshouses, Over Gardens Out.
Other theatre includes: The Cripple of Inishmaan (& Broadway), The Father, Mrs Lowry & Son, Uncle Vanya, Smaller (& UK tour), Mary Stuart, Middle Age Spread (West End); Good People (Hampstead); Before The Party, Hippolytus (Almeida); Calendar Girls (David Pugh ltd/UK tour); Reeling (New Vic/Eastbourne Theatres); Pressure Drop (Wellcome Collection); Another Door Closed (Theatre Royal, Bath); Aristo (Chichester Festival); The Children's Hour (Royal Exchange, Manchester); Romeo & Juliet (RSC); Streetcar to Tennessee: Hello from Bertha & The Dark Room, The Shadow of a Gunman, Julius Caesar, Catostreet (Young Vic); Blue Heart (Out of Joint); Coriolanus, The Winter's Tale (& International tour), The Wars of the Roses (ESC); Ballroom (Theatre Royal Stratford East); Waiting for The Parade (Lyric, Hammersmith); Our Lady of Sligo (& Out of Joint), Scenes from the Big Picture, Cardiff East, The Prince's Play, Le Cid, Rutherford & Son, Machinal, Billy Liar (& UK tour), Whale, Garden of England, As I Lay Dying, The Beggars Opera, Il Campiello, State of the Revolution, The Good Hope (& UK tour), Sir is Winning (National); Lark Rise, The Passion, The World Turned Upside Down, The Long Voyage Home (Bill Bryden's Cottesloe Company); Henry IV parts I & II, Henry V, Henry VI  parts I & II, Richard III (English Shakespeare Company/UK tour/International tour).
Television includes: To Walk Invisible, Agatha Raisin, Thirteen, Unforgotten, A Song for Jenny, Holby City, Wallander, Doctors, Law & Order UK, Coming Up, Harvest, Above Suspicion, New Tricks, Hancock & Joan, The Bill, The Street, Billy Goats Gruff, City of Vice, Clapham Junction, Wedding Belles, The Time of Your Life, Strictly Confidential, In Denial of Murder, The Key, William & Mary, Midsomer Murders, The Inspector Lynley Mysteries, Brotherly Love, Thursday the 12th, In a Land of Plenty, Casualty, Where the Heart Is, Berkeley Square, Kavanagh QC, A Mug's Game, Taking Over the Asylum, Full Stretch, Prime Suspect II, Inspector Morse, Joe, For the Greater Good, Mike & Angelo, Wokenwell, Turning World, Jonathan Creek, Common as Muck, Criminal, Para Handy, Snakes & Ladders, Capital City, Shoot for the Sun, The Campbells, Taggart, Eh Brian! It's a Whopper, The Big H, Skin Deep, Waterloo Sunset, Z Cars, Angels, The Further Adventures of Oliver Twist, The Adventures of Caleb Williams, Tales of The Unexpected, Reasons to be Cheerful.
Film includes: The Death of Stalin, The Lady in the Van, Ghost Hunter, 102 Dalmatians, Highlander IV: Endgame, The Last Yellow, The Knowledge, Bloody Kids.
Awards include: The Clarence Derwent Award (The Cripple of Inishmaan & Before the Party).