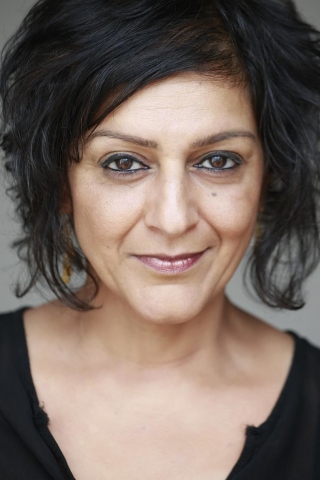 Meera Syal
For the Royal Court: a profoundly affectionate, passionate devotion to someone (-noun), If You Don't Let Us Dream We Won't Let You Sleep, Serious Money (& West End/Broadway), The Great Celestial Cow, Minor Complications, True Dare Kiss, Byrthrite.
Other theatre includes: Noises Off (Lyric, Hammersmith/West End); Peter Pan (Hippodrome, Birmingham); Pinter at the Pinter (West End); Romeo & Juliet (Kenneth Branagh/West End); Behind the Beautiful Forevers, Rafta Rafta, Peer Gynt (National); Much Ado About Nothing (RSC); The Killing of Sister George (Arts); Shirley Valentine (Menier/Trafalgar); Bombay Dreams (Really Useful/West End); The Vagina Monologues (Old Vic/West End/Broadway); One of Us (Edinburgh International Festival/Off-Broadway); Kissing God (Hampstead); Blood Wedding (Half Moon & UK Tour); The School for Scandal (Bristol Old Vic); Kirti Sona & Ba (Haymarket, Leicester); My Girl (Theatre Royal, Stratford East); Goodness Gracious Me (UK tour).
Television includes: Roar, The Wheel of Time, The Devil's Hour, Back to Life, Beena & Amrit, Code 404, Kate & Koji, Riviera, Walliams & Friends, The Musketeers, Midsomer Murders, Broadchurch, The Brink, The Boy in the Dress, Psychobitches, The Job Lot, The Kumars at No. 42, Crackanory, Silk, Bollywood Carmen, Family Tree, Hunted, Mr Swallow, The Jury, Doctor Who, Little Crackers, Jekyll, The Amazing Mrs Pritchard, The Secretary Who Stole £4 Million, Life Isn't All Ha Ha Hee Hee, Goodness Gracious Me, Who Do You Think You Are?, Linda Green, Fat Friends, Mrs Bradley Mysteries, Absolutely Fabulous, Sean's Show, Jo Brand's Through the Cakehole, My Sister Wife, Crossing the Floor, The Real McCoy, Kinsey, A Little Princess, Secret Diary of Adrian Mole.
Film includes: The Almond & the Seahorse, Yesterday, Nativity Rocks, Patrick, Murder on the Orient Express, Paddington 2, The Nutcracker & the Four Realms, Dr Strange, Alice Through the Looking Glass, Absolutely Anything, All in Good Time, You Will Meet a Tall Dark Stranger, Desert Flower, Mad Sad & Bad, Jhoom Barabar Jhoom, Scoop, Anita & Me, Girls Night, Beautiful Thing, It's Not Unusual [short], A Nice Arrangement, Sammy & Rosie Get Laid.
Radio includes: Small Town Murder, Bindi Business, Everyday Story of Afghan Folk, Leaving Normal, Kipling in Love, Verse Universe, Ladies Excuse Me, Poetry Please, Wicked Words, Morning Story, Book At Bedtime, Pankhiraj, Goodness Gracious Me, Gossip & Goddesses.
Awards include: British Comedy Award, RTS Award (Goodness Gracious Me); International Emmy Award, Peabody Award (The Kumars at No. 42); AFA Award (My Sister Wife); WhatsOnStage Award for Best Solo Performance (Shirley Valentine); RIMA Media Personality of the Year; Asian Women of Achievement: Chairman's Award; Women in Film and Television's Creative Achievement Award. 
Meera was awarded the CBE for Services to Drama and Literature in 2015. She is also a Fellow of the Royal Society of Literature.