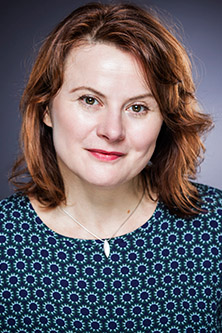 Monica Dolan
For the Royal Court: The Twits, Birth of a Nation, Sliding with Suzanne (& Out of Joint), The Glory of Living.
Other theatre includes: The Same Deep Water as Me (Donmar); Chalet Lines (Bush); King Lear, The Seagull, The Taming of the Shrew, A Midsummer Night's Dream (RSC); Jane Eyre (Shared Experience tour/West End); Macbeth (Out of Joint); Mary Stuart (Southampton); She Stoops to Conquer, A Laughing Matter (National/Out of Joint); The Walls (National); Hayfever (Triumph Proscenium); The Glass Menagerie (Royal Lyceum, Edinburgh).
Television includes: W1A, The Casual Vacancy, Wolf Hall, The Escape Artist, Complicit, Call the Midwife, Coming Up, Appropriate Adult, U Be Dead, Excluded, Inspector Banks, Occupation, Midsomer Murders, The History of Mr Polly, Poirot, The Commander, Wallis & Edward, Tipping the Velvet, Judge John Deed, The Gift.
Film includes: Eye in the Sky, Pride, The Falling, Alpha Papa, Sightseers, The Arbor, Never Let Me Go, Within the Whirlwind, King Lear, Topsy Turvy, A Midsummer Night's Dream.
Awards include: BAFTA for Best Supporting Actress (Appropriate Adult).