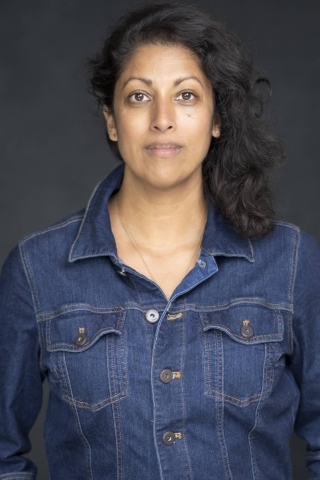 Priyanga Burford
Theatre includes: The Winter's Tale, Eyam (Shakespeare's Globe); Consent (National); The Effect (Sheffield Crucible); Behud (& Belgrade Coventry), On Religion (Soho); The White Devil (InService Productions/Brighton Pavilion); A Passage to India (Shared Experience); A Midsummer Night's Dream (Royal Shakespeare Company); Twelfth Night (Liverpool Playhouse); Arabian Nights (Young Vic, New Victory NYC); The John Wayne Principle (Nuffield, Southampton).
Television includes: Innocent 2, Industry, Avenue 5, This Time with Alan Partridge, Press, W1A, Election Spy, King Charles III, Fearless, Marcella, I Want My Wife Back, 100 Days of UKIP, London Spy, No Offence, Babylon, Lewis, Law and Order UK, Veep, Lawless, A Life of Crime, The Thick of It, Silent Witness, The Shadowline, Extras, Murphy's Law, Heartless, A Rather English Marriage, Casualty, Case Sensitive, Public Enemies, Married Single Other, Holby City, The Vice.
Film includes: No Time to Die, Detective Pikachu, Criminal, The Long Way Down, U Wan Me 2 Kill Him, The Other Man, Magicians.
Radio includes: Phonophone, Antony and Cleopatra, Pride and Prejudice, Silk, He Died with His Eyes Open, Sword of Honour, The Swami and Winston, Warming Her Pearls.
Awards include: Carleton Hobbs Radio Award (BBC Radio).