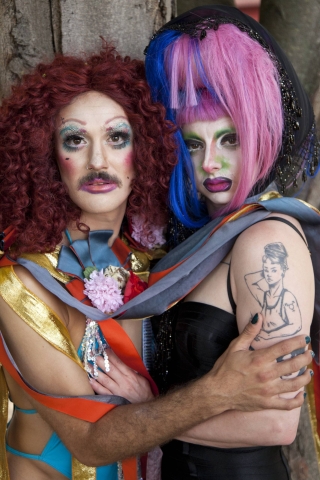 Ray Filar & Dex Chait Grodner
Ray Filar, aka That Ray, is a performance artist, writer, and theatre-maker. At turns confrontational and violent, then warm and funny, their practice interrogates themes of labour, intimacy, grief, Judaism, criminalisation and the body. Performances include: Tate Britain and Modern, Hayward Gallery, ICA, Glastonbury and Latitude festivals. They are finishing a PhD in Creative Writing and Gender Studies at Sussex University, where they are writing a queer sex worker revenge fantasy novella.  
Dex Chait Grodner, aka Chanukah Lewinsky, is a theatre maker, community organiser, arts producer, and drag cabaret artist. Their work uses Jewish and pagan rituals to explore themes of money, biological and chosen family and the life cycle. Dex has performed at the JW3 and Tate Britain and given talks on trans inclusion in the arts at Southbank Centre and RADA. They are founder of the queer, Jewish ecological art project Lady Cynthia's Lover and co-director for Queer Youth Art Collective.  
Together Ray and Dex run the queer Jewish theatre and cabaret company FKA Homos and Houmous.