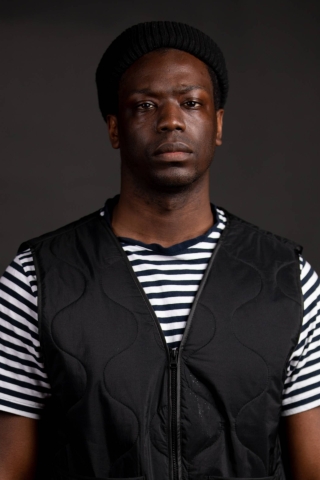 Ryan Calais Cameron
For the Royal Court: Living Newspaper, My White Best Friend (and Other Letters Left Unsaid).  
As writer, other theatre includes: Human Nurture (Theatre Centre/Crucible, Sheffield/UK tour); For Black Boys Who Have Considered Suicide When the Hue Gets Too Heavy (Nouveau Riche/Boundless/New Diorama); Queens of Sheba [co-writer] (Nouveau Riche/Edinburgh Festival Fringe/New Diorama/UK tour); Typical (Nouveau Riche/Edinburgh Festival Fringe/Soho); Rhapsody (Arcola); Timbuktu (Black Lives Black Words Festival, Bush/Theatre Royal, Stratford East).  
Awards include: Edinburgh Untapped Award, The Stage Edinburgh Award, Offie Award for Best Performance Piece (Queens of Sheba), Off West End Adopt A Playwright Award (Rhapsody).  
Ryan is the Co-Founder of Nouveau Riche Theatre Company.