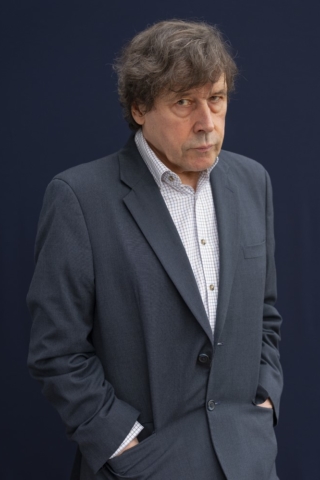 Stephen Rea
For the Royal Court: Cyprus Avenue (& Abbey, Dublin/Public, NYC), Ashes to Ashes, Captain Oates Left Stock, Doublecross, Endgame, Freedom of the City, Geography of a Horse Dreamer.
Other theatre includes: Ages of the Moon, Tales of Ballycumber, Kicking a Dead Horse, Aristocrats, The Blue Macushla (Abbey, Dublin); A Particle of Dread (Derry Playhouse/Signature, NYC); Ballyturk (& Black Box, Galway), Crete & Sergeant Pepper, Piano, Strawberry Fields, Tales of Vienna Woods (National); The Shadow of a Gunman (Mermaid); Action, Ecstasy, Buried Child, Communication Cord Translation, Kingdom of the Earth, Saint Oscar, Someone Who'll Watch Over Me (Hampstead); High Society (West End); Play, That Time (Gate); Comedians (Nottingham Playhouse).
Television includes: Counterpart, War & Peace, Dickensian, The Honourable Woman, Utopia, The Shadow Line, Single-Handed, Law & Order, Father & Son, 10 Days to War.
Film includes: Greta, Black 47, Nothing Personal, Stuck, V for Vendetta, Breakfast on Pluto, The River Queen, Control, Ulysses, Evelyn, The End of the Affair, Guinevere, Still Crazy, In Dreams, The Butcher Boy, Fever Pitch, Trojan Eddie, Michael Collins, The Devil & the Deep Blue Sea, Prêt a Porter, Interview with a Vampire, Princess Caraboo, Angie, Bad Behaviour, The Crying Game, Life is Sweet, The Company of Wolves, Loose Connections, Citizen X, Angel.
Awards include: BAFTA and Irish Television & Film Award for Best Supporting Actor (The Honourable Woman); Cairo International Film Festival Award for Best Actor (Citizen X).