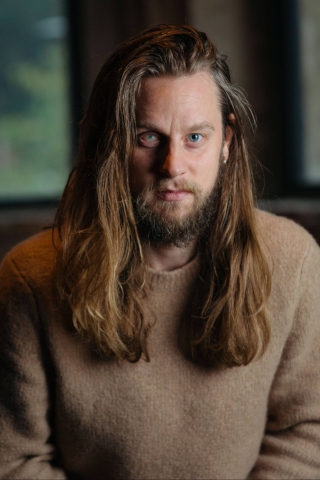 Tadhg Murphy
For the Royal Court: Bad Roads. 
Other theatre includes: Ballyturk (& St. Ann's Warehouse, NYC), Three Sisters (& USA tour), Aristocrats (Abbey, Dublin); Our Country's Good (National); Romeo & Juliet, Mrs. Warren's Profession, Hay Fever (& Spoleto Festival, Charleston USA), Da, The Speckled People, The Real Thing (Gate, Dublin); How These Desperate Men Talk, MedEia (Corcadorca); Waiting for Godot (Gaiety, Dublin/USA tour); The Cripple of Inishmaan, The Walworth Farce (& UK tour/International tour), Penelope (Druid); The Taming of the Shrew (Rough Magic). 
Television includes: Conversations with Friends, Brassic, The English, Red Election, Absentia, Bloodmoon, Miss Scarlett & the Duke, Counterpart, Guerrilla, Will, Black Sails, Vikings, Seachtar na Cásca, An Crisis, The Clinic, Love is the Drug, No Tears. 
Film includes: The Northman, Wrath of Man, Dead Happy, How to Build a Girl, Undergods, Lost in the Living, Pride & Joy, Boy Eats Girl, Alexander, The Secret Market, Jelly Baby. 
Radio includes: Relic, Vigil, The Plough & the Stars, The Finnegans, The Colleen & the Cowboy.