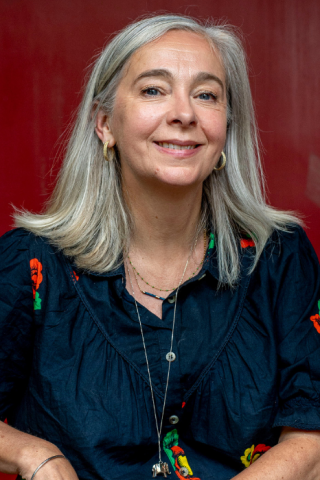 Vicky Featherstone
For the Royal Court: Jews. In Their Own Words [co-director], The Glow, Maryland, Living Newspaper, Shoe Lady, On Bear Ridge (& National Theatre Wales) [co-director], Cyprus Avenue (& Abbey, Dublin/MAC, Belfast/Public, NYC), The Cane, Gundog, My Mum's a Twat, Bad Roads, Victory Condition, X, How to Hold Your Breath, God Bless the Child, Maidan: Voices from the Uprising, The Mistress Contract, The Ritual Slaughter of Gorge Mastromas; Untitled Matriarch Play, The President Has Come to See You (Open Court Weekly Rep). 
For National Theatre of Scotland: Our Ladies of Perpetual Succour (& National/West End/International tour), Enquirer [co-director], An Appointment with the Wicker Man, 27, The Wheel, Somersaults, Wall of Death: A Way of Life [co-director], The Miracle Man, Empty, Long Gone Lonesome; Cockroach (& Traverse), 365 (& Edinburgh International Festival), Mary Stuart (& Citizens/Royal Lyceum, Edinburgh), The Wolves in the Walls [co-director] ( & Tramway/Lyric, Hammersmith/UK tour/New Victory, NYC).
For Paines Plough: The Small Things, Pyrenees, On Blindness, The Drowned World, Tiny Dynamite, Crazy Gary's Mobile Disco, Splendour, Riddance, The Cosmonaut's Last Message to the Woman He Once Loved in the Former Soviet Union, Crave.
Other theatre includes: What if Women Ruled the World? (Manchester International Festival).
Television Includes: Pritilata (from Snatches: Moments from 100 Years of Women's Lives), Where the Heart Is, Silent Witness. 
Vicky was Artistic Director of Paines Plough 1997-2005 and the inaugural Artistic Director of the National Theatre of Scotland 2005-2012. She is the Artistic Director of the Royal Court.