Casting Announced for Gundog
Published on Fri 5 Jan 2018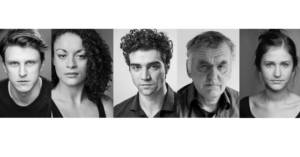 Alex Austin, Rochenda Sandall, Alec Secareanu, Alan Williams and Ria Zmitrowicz have been cast in Gundog, written by Simon Longman and directed by Royal Court Artistic Director Vicky Featherstone. Gundog runs in the Jerwood Theatre Upstairs Wednesday 31 January 2018 – Saturday 10 March 2018 with press performances on Tuesday 6 February and Wednesday 7 February. The review embargo will be lifted Wednesday 7 February 11.59pm.
With design by Chloe Lamford, lighting by Lee Curran, music by Matthew Herbert and sound by Peter Rice.
Royal Court Artistic Director Vicky Featherstone commented:
"Gundog is a bleak and brutal reminder of the poverty and struggle for survival in rural England which we rarely see portrayed. It is a desperate portrait of forgotten people who were once the life blood of the country."
For the full press release click here.
To book tickets visit the show page.