Living Newspaper Digital FAQs
We are delighted to offer special digitally captured editions of Living Newspaper, and bring the Royal Court experience to you at home. For Living Newspaper, we are streaming each edition on the Royal Court Player.
We hope that wherever you are in the world, you will be able to join us and experience Living Newspaper in a time zone and setting that is most convenient for you.
If you want to connect with others watching the online premiere across the world, join the online conversation on Twitter using the hashtag #LivingNewspaper.
Please see FAQ below on using Royal Court Player, troubleshooting, watching the Online Premieres, and watching on demand.
How do I access Royal Court Player?
Living Newspaper is hosted on Royal Court Player . To watch a performance – be that on demand or an online premiere-, you will need to have bought a ticket and log in to your Account on Royal Court Player, using the same email address and password you used to buy your ticket. You can access your account by clicking the Account link and the small person icon at the top of the page.
Once you are logged in, you will be able to access the Edition you have booked for by:
Going to the video link in your e-ticket, and clicking the 'Watch now' red button
Going to the Royal Court Player homepage, selecting the edition you want to watch, and click the 'Watch now'  red button
Clicking the red Royal Court logo at the top of the page will take you to the Royal Court player homepage.
Please see our video below on how to log in to Royal Court Player and watch an edition:
How do I reset my password?
You will need a password to log in to your account. If you did not create a password when you booked your tickets, or have forgotten your password, you can reset it by going to the account page and clicking 'Forgotten your password? Reset here'.
Help, I can't hear anything!
Please check that the video is not muted. If the video is muted, the volume icon in the video taskbar will display the speaker icon with a line through it like this:

To unmute the video, click the speaker icon and slide the volume dial to your desired volume. It should look like this: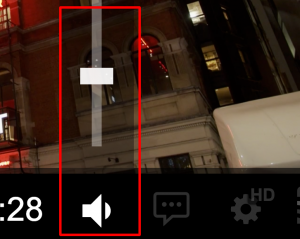 If you still cannot hear any sound after adjusting the speaker icon, please check your device settings.
Help, my video is frozen!
If your video freezes or has issues buffering, try refreshing the page.
Our player is designed to give you the highest video quality that's available for your internet connection, but sometimes you might want to change the quality yourself if you encounter issues. If you experience video buffering or freezing, lowering the video quality will help to give a smooth playback.
To change the quality, click on the cog in the bottom right corner of the player.
Next click on "Quality" and select your preference.
The higher the number the better the picture quality, and the lower the number the smoother the playback will be.For slower internet connections or if you have buffering issues, we recommend selecting "240p".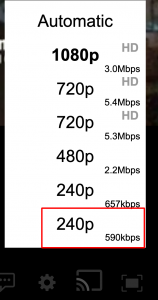 Once a lower playback has been selected, click the cog again to close the menu.
Can I watch the video with captions?
Yes, you are able to turn on closed captioning in the video menu taskbar.
Can I rewind the video?
Yes, you will be able to pause and rewind the premiere and on demand videos. 
Can I adjust the volume?
Yes the volume can be adjusted manually on your device or by using the volume controls in the video player.
What is the best way to watch Living Newspaper?
Living Newspaper is hosted on a web browser and it is best viewed on a desktop, laptop, or Smart TV. We recommend network speeds of 500 kbps or higher to stream the lowest playback quality (240p).
The online premiere is streamed by Dacast and this video is embedded onto a webpage. This embedded video can be expanded to full screen. 

If you have a Smart TV with a web browser feature built in, you will be able to watch the Online Premiere by accessing Royal Court player on the web browser.

If you would like to Chromecast the online premiere, you can do so by using the Chromecast 'Start Casting' icon in the video taskbar . 
Is there a chat function to speak with the Royal Court team?
Our team are on hand for the online premiere to support you if you have difficulties accessing the video. If you need to speak with someone from the Royal Court Theatre, you can do so by using the red chat box on this page (on Sundays 4.30pm -6pm GMT) or emailing us at [email protected].
If you have booked for the On Demand, we are unable to provide live technical help, but if you do encounter a problem either with your rental, email us and we will get back to you as soon as possible. Your patience is appreciated, and we will definitely find a way for your to enjoy the Edition you have purchased.
Online Premiere FAQ
Each edition will premiere online at 5pm (GMT) on Sunday evening and will then be available to watch on-demand from Monday 10am – Sunday 4pm (GMT).
When should I log in to my account to start watching?
We recommend logging in at least 15 minutes before the broadcast begins at 5pm.
We will launch a countdown to the premiere from 4.30pm on Sunday, and the performance will begin promptly at 5pm.
You can use this countdown time to get set up and logged in, as well as gather any snacks, drinks, or anything else you need to feel comfortable.
If the screen does not display a video by 4.50pm, please refresh your browser or get in touch with the team.
The broadcast will go offline at 7pm.
I have bought several tickets for my friends/family using my account – can other people log in my account to use their ticket and watch?
Yes.
On demand FAQ
How can I watch Living Newspaper on demand?
Living Newspaper editions will be available to watch on demand the Monday following their Sunday premiere. They will go on sale at 10am on that Monday, and you will be able to rent them on Royal Court Player.
How long do I have to watch the edition?
Each edition will be available to watch on demand from Monday 10am – Sunday 4pm.
If you have already purchased an Online Premiere ticket, you will be able to watch the Edition on demand and information will be sent to you on how to do so.
Ticket FAQs
Tickets for the Online Premiere will go on sale at noon the Monday before.

Tickets will be available to buy online only.

Tickets start at £10 for each edition with higher prices, which include a donation, also available. Everyone will get the same view regardless of what ticket price they pay, however, we'd ask if possible that you consider paying what you would usually expect to pay for a night at the theatre. All donations will Support the Court.
It's possible for a group to watch together on just one purchased ticket but, if you feel able, please consider buying multiple tickets if more than one person is watching.

Credit vouchers, Royal Court Vouchers and Theatre Tokens can be used to purchase tickets to the digital capture.
If you are a school, university, or group interested in viewing Living Newspaper, please email [email protected] to find out more about pricing and extra content.
Access bookers
The digital capture will have the option for captions, and audio described enhanced pre-show notes will also be available to those watching online. 
To listen to the audio described enhanced pre-show notes for Edition 2 click here. (This recording is approx 20 mins).