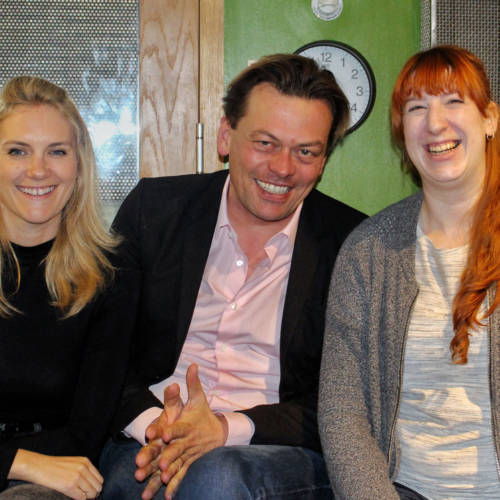 BONUS TRACK! S2 Ep16: Simon Stephens talks to Anoushka Warden and Emily Legg
I first met Simon Stephens in 2011. I was an intern here at the Court and was tanning in the garden in my lunchbreak. Simon was here with his play Wastwater and was taking a moment's break from rehearsals. I had watched a preview the night before. So I asked him about the ending which left me needing to know for sure whether the character of Jonathan was up to no good or not. I didn't want to decide, I wanted the facts, and here was the writer himself. Simon graciously told me what I needed to know. I now realise after several years of working at the Court (and getting to know many writers) how potentially annoying my question was and how generously Simon answered it – a truly accurate representation of this mighty writer.
By his own admission Simon stumbled into adolescence as a lanky specy nerd in Stockport. By the time he arrived at York Uni to study history in the late 80s he had reinvented himself as a lean contact lens wearing indie kid from Manchester. His natural progression from Uni was to join a band, obvs. And he became the bassist in The Country Teasers where they recorded such classics as Hairy Wine and Go Away from the Window.
Failing to achieve the worldwide domination they so richly deserved Simon opted to study for a PGCE at the Institute of Education which began his career in teaching. I don't know what went down there but in 1997 Simon wrote his first professional play Bring me Sunshine which premiered at the Edinburgh Festival Fringe. Over the next 2 decades he wrote shitloads more – plays as varied as Bluebird and Birdland, Port and Punk Rock, on the Shore of the Wide World and Carmen Disruption, Pornography and Motor Town, Harper Regan and Herons, Wastewater and Nuclear War, Fatherland and Heisenberg: The Uncertainty Principle. As well as his adaptations of The Curious incident of the Dog in the Night-Time, A Doll's House, The Cherry Orchard, I Am the Wind and The Seagull.
Many of his original plays have premiered at the Royal Court.
He was writer's tutor here for the Young Writers' Programme from 2001-2005 and has held artistic positions at Paines Plough, the Court and the Lyric Hammersmith. He's won some awards too.
All of Simon's plays, despite their differences in form, focus on the ferocity and fragility of being human. He excels at the presentation of small moments of behaviour which have huge theatrical impact. Fascinated by transgression, violence, fear and our great capacity for love he has proven himself to be a prolific and provocative voice central to modern theatre culture.
Part of this centrality lies in his whole-hearted support and encouragement of other writers. From his time at the Royal Court as leader of numerous writing workshops his enthusiasm and influence have inspired several generation of writers.
A testament to this is the range of writers who have appeared on this podcast willing to be interviewed by him.
Now it's his turn.
In the Country Teasers song Golden Apples there's a lyric that says "Simon can't walk properly he has trays instead of feet" but luckily for us all his fingers aren't tea cups. And, oh yeah, in case it wasn't clear music has influenced everything he has ever done EVER.
Simon Stephens welcome to your own podcast.