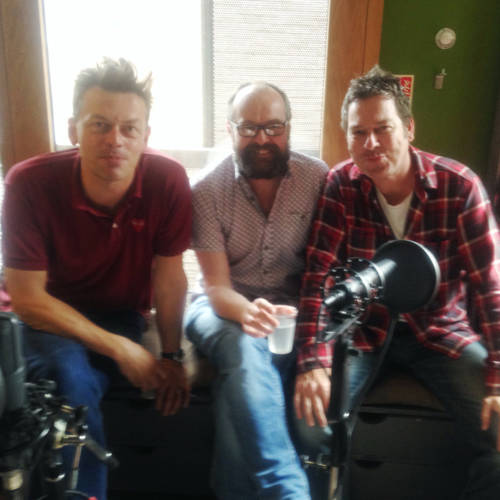 S1 Ep3: Dennis Kelly & Joe Penhall talk to Simon Stephens
The following content may contain strong language.
Click here to return to the main podcast page.
To subscribe via iTunes click here.
Introduction by Simon Stephens:
"This afternoon's recording is going to be something of a break from convention. This afternoon I won't just be interviewing one of the world's leading playwrights, but two of them together.
Joe Penhall first came to wide recognition in 1994 when his play Some Voices was produced down the corridor from this room in the celebrated Theatre Upstairs. A passionate, bruising study of love and brotherhood and illness and survival, it launched a career that has seen Joe work in the world's leading theatres and write with phenomenal success for television and film. His musical Sunny Afternoon is thriving in the West End, after cleaning up at last year's Olivier Awards. His films include Road and Enduring Love, he has seen massive acclaim for his television series' Moses Jones and The Long Firm, his multi-award winning 2000 play Blue/Orange has just been revived with startling force at the Young Vic. But it is here, I think, at the Royal Court with plays like Pale Horse, Dumb Show, Haunted Child and Birthday that Joe has continued to push himself and cement his reputation as one of the world's leading dramatists for stage.
Dennis Kelly too is, I think, one of Britain's most significant living playwrights. It's something of an anomaly, and I think a fascinating one, that his work has rarely been staged here. His Royal Court debut, his first play produced by current Artistic Director, Vicky Featherstone; The Ritual Slaughter of Gorge Mastromas, opened here in 2013 but it was actually his ninth major play. His coruscating, lyrical debut Debris opened at the Theatre503 in 2003 and in the following 12 years his plays, amongst which are Orphans, After the End, Osama the Hero and Love and Money, have been celebrated for their savagery and intelligence, searing wit and restless formal exploration and produced all over the world. His television series' Pulling and Utopia have been hailed as masterpieces of the form. His musical collaboration with Tim Minchin, Matilda, a musical based on Roald Dahl's much-loved novel, has been a magnificent success, both commercially and critically, on the West End and Broadway for the duration of this decade."