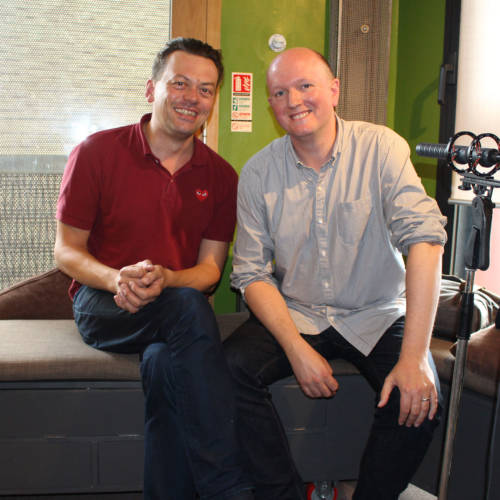 S2 Ep 6: Mike Bartlett talks to Simon Stephens
I'm not sure I remember the very first time I met Mike Bartlett. I know he was a participant in one of the Young Writers Groups that I ran at the Royal Court in the early years of the last decade. After a few weeks I became quietly aware of his wry humour and quiet but forensic and determined intelligence. I do remember one early encounter with his work very clearly. I was sitting outside The Site in the back garden having a cigarette and reading students plays. By this stage Mike was in what we called the Invitation Group.  He had delivered an early draft of his newest play. I opened it to read and was slightly taken aback and then thrilled that Bartlett seemed to have written a play imagining the future life of Prince William. A life, in my vague memory, of political edge and sexual adventure. I was struck by its audacity and its daring. At a time when most students were handing in repeddlings of Sarah Kane or Leo Butler plays here was a writer who was writing with wit and insight, compassion and audacity about major political themes and containing that within the unlikely gesture of a play about an imagined future of our Royal Family.
Sometimes, in jobs like mine, you just now you're in the presence of something special. Well I think it is fair to say that Prince William has let those of us who read Mike's early play down by avoiding a career of political edge and sexual adventure. Mike Bartlett very much hasn't.
Over the last ten years he has established himself as one of the most confident and authoritative voices of his generation. He has written widely and with great success for television and film and become a playwright of international significance.
He was the Resident Dramatist at the Royal Court in 2007 where his play My Child restructured the Theatre Downstairs. And while he went on to write brilliantly for the Hampstead Theatre and the Young Vic (his play Bull is one of my favourites of all his work); the National (Earthquakes in London and 13 at the Olivier provoking widespread acclaim). He has returned again and again to the Royal Court. His play Artefacts turned the third floor rehearsal room into a tense and taut reimagining of an office space. Paines Plough's Love, Love , Love was a historical drama charting the shifting entitlements of a generations of a family formed in 1968 and Cock, a masterpiece of a chamber play – a tender three hander exploring the agonies and difficulties of love and commitment.
Bartlett won two Olivier Awards in the same year and he has directed with great success. He has seen his plays produced all over the world. But, I think the achievement of his I most envy is the review he got in the Daily mail for the sparkling television reimaging of Charles 3rd. They described it as ""shameful, vile, pathetic tosh".
I think if those are the kind of notices the Daily Mail are giving you then you are definitely doing something roundly, resiliently, brilliantly right.