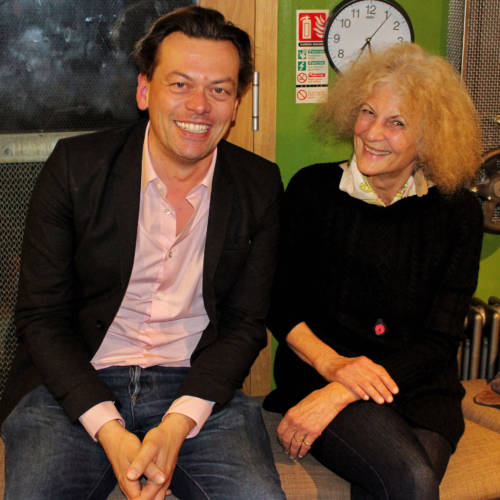 S2 Ep15: Timberlake Wertenbaker talks to Simon Stephens
The plays of Timberlake Wertenbaker have been a presence in British theatre since the turn of the 1980s. Since that time she has produced work that is as defined by its sense of poetry and linguistic precision as it is by her characters' yearning for justice or a sense of a home.
Born in New York she was raised in the Basque fishing village of Cibure. She arrived in the fringes of London theatre when her first play, the brilliantly titled This Is No Place for Tallulah Bankhead, was produced at the King's Head Theatre in 1978. She made her Royal Court debut in 1984 with her play Abel's Sister. She became the theatre's resident dramatist in 1985 when her play The Grace of Mary Traverse also opened here winning her the Plays and Players Most Promising Playwright Award, the first of the many awards that have graced her work.
She was at the vanguard of a generation of female playwrights championed by the theatre's then Artistic Director Max Stafford Clark who also directed two of her most celebrated plays.  1992's searing parody of the London Art World Three Birds Alighting On A Field transferred from the Royal Court into the West End and was then remounted in New York at the Manhattan Theatre Company but it was her play from 1988 – her adaptation with Stafford Clark of Tomas Kennealley's novel The Playmaker – Our Country's Good that she is most famous for. It is a remarkable play. As searching as it is eloquent, in its dramatization of the impossibility of articulating experience in language and the isolation of the displaced it typifies many of Wertenbaker's key themes. She claims that it is her most often remounted plays because it is about theatre and theatre producers like plays about theatres. I think that while there may be truth in this it is also a play that is remarkable for the eloquence of its celebration of the defiance in the human capacity to tell stories.
Revived at the National Theatre in 2015 it is a contemporary classic and as a staple of drama teaching in schools it is many peoples first introduction to contemporary playwriting.
Her work at the Royal Court continued into this century with 2001's Credible Witness. Her 2015 Royal Shakespeare Company production The Ant and the Cicada visited the Theatre Upstairs in 2015. She is one of only a handful of playwrights to have had her work produced at the Royal Court in four different decades. She has written for theatres throughout the country, for radio and for opera producing a body of work that is frankly unarguable. Her most recent play Winter Hill opened this summer at the Bolton Octagon.
As I enter my third decade of writing for stage I find the longevity of any playwright inspiring. It is difficult to sustain a career writing for theatre. For female playwrights working in patriarchy it requires a particular sense of determination and a voice of clarity and force. Such characteristics define Timberlake Wertenbaker's plays.