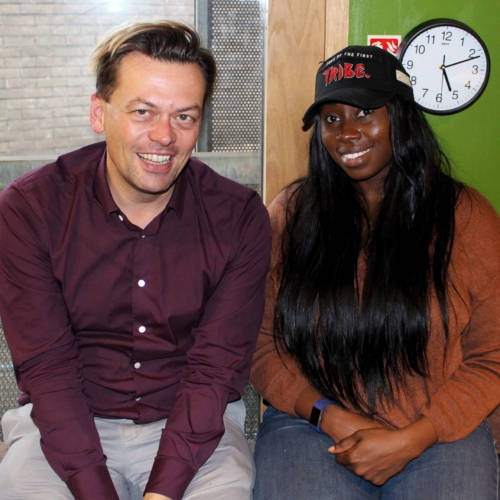 S2 Ep3: Bola Agbaje talks to Simon Stephens
The career of Bola Agbaje launched with one of the most confident and exciting debut swaggers in playwriting this century. Another of the graduates of Leo Butler's energetic Young Writers programme here at the Court in 2007,  Agbaje's Gone Too Far followed two young brothers raised in two different continents – one, Yemi, in London and his elder brother, Ikudayis, raised a Yoruba speaker Nigeria. The play charts the tension of the cultural clash when Ikudayisi moves to live with Yemi in London. And then throws them out into a multi cultural capital that lacerates any notion of a shared black identity while celebrating the complicatedness of their humanity.
It was produced at 2007's Young Writers Festival, won Agbaje an Olivier Award for Outstanding Achievement in an Affiliated Theatre and was transferred to the Theatre Downstairs in 2008.
Agbaje followed Gone Too Far with 2010's morality study Off The Endz. It charted the effects of Ashley Waters's David returning from jail to explode the life of his middle class childhood friend Kojo. The play was received with real admiration for the rigour and honesty of Agbaje's examination of the emotional consequences of structural racism and the way that can define and paralyse the lives of her protagonists.
2012's Belonging, commissioned by British African theatre company Tiati Fahodzi, saw Agbaje move her focus into the world of Nigerian politics and the possibility of corruption and dignity alike in that country.
In the past five years Agbaje has written widely for theatre. She has seen her work staged at the Tricycle, the Riverside Studios, Oval House and Trafalgar Studios. Her most recent play Bitches, written for the National Youth Theatre, was performed at the Finborough. Over the past five years she has also established herself as a screenwriter of increasing confidence. A series of short films culminated in the feature release of her own adaptation of Gone Too Far. She has suggested that her ultimate ambition as a writer lies in writing for film.
Taking inspiration from the dramatic axis that spins from Nigeria to London – and her parents settling in England in the 80s – Agbaje is engaged in a bracing moral interrogation of the tensions between compromise and aspiration. As her characters make sense of what home is or how it is ever possible to live at home or leave it, Agbaje has become an iconic dramatist for an entire generation of young playwrights.