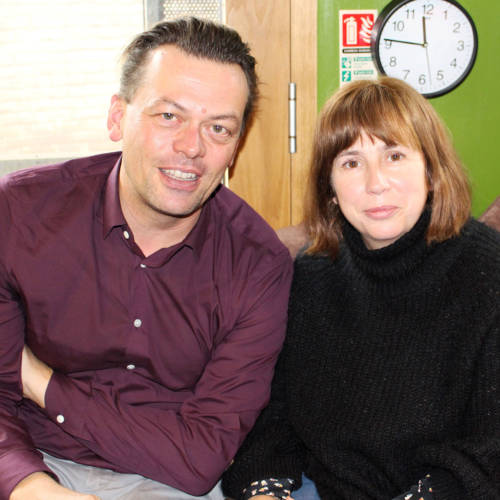 S2 Ep5: Abi Morgan talks to Simon Stephens
Abi Morgan is one of the most prolific and celebrated dramatists of her generation. While she has reached international acclaim for her startling television and film work she began her trade in the theatre and has, over the course of the past two decades, made plays of formal confidence, emotional incision and darting theatricality.
There are few screenwriters of such importance to have emerged in the UK this century. Bafta and Emmy winning work includes the television drama Sex Trafficked, a single film that launched her screen career. White Girl, Tsunami and The Royal Wedding followed. Her work reached its highest range with the multi award-winning series the Hour at the turn of the last decade. For cinema Morgan has written about sex addicts and neo-liberal tyrants alike in Shame and The Iron Lady.
Morgan was born into a family which was almost the stereotype of a theatrical family. Her father Gareth Morgan was the Artistic Director of the Gulbenkian Theatre in Newcastle and her mother Pat England was a successful repertory actor.
She made her debut for the stage with Skinned at Nuffield Theatre, Southampton in 1998. Fast Food at the Manchester Royal Exchange studio in 1999 was followed by Splendour for Paines Plough in 2000 and revived at the Donmar Warehouse in 2015. 2001's Tiny Dynamite saw the start of a collaboration with Frantic Assembly that has graced both her career and the life of that company while that year's Tender at the Hampstead Theatre earned her a nomination for Most Promising Playwright.
Her most recent collaboration with Frantic Assembly Lovesong opened in 2011 at the Plymouth Drum before touring internationally with that company. She made her Royal Court debut on the opening season of Vicky Featherstone's Artistic Dirctorship with her sharp study of sexual mores, The Mistress Contract in 2014. Adapted from an anonymously published set of recorded conversation between a couple in the throes of a decade long affair, it bore many of the hallmarks of Morgan's stage writing. A dramatization drawn from an actual event, it was formally searching and unflinching in its examination of sexuality and sexual politics. It placed the vicissitudes of identity and empowerment against the complicated backdrop of human relationships.
In an Abi Morgan drama the humanity and the disempowering nature of ideological structures are in a dance of constant tension with one another.