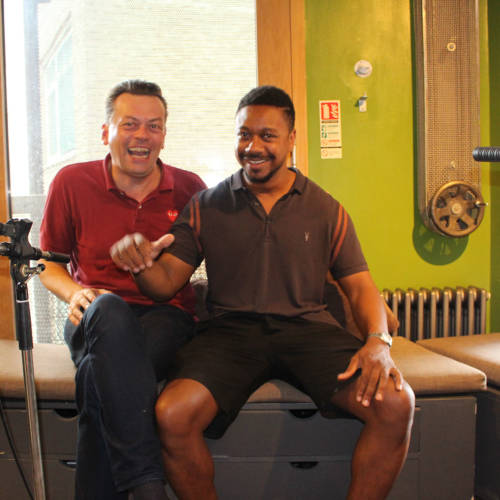 S2 Ep8: Nathaniel Martello-White talks to Simon Stephens
In some ways Nathaniel Martello-White is, of all the writers I've spoken to on these podcasts, the least experienced. He has only had two plays produced professionally. Both of them to massive critical acclaim. But in other ways he is far more experienced than all of us.
Martello-White has made his name over the past decade as one of the most compelling and young stage actors in Britain. Nuanced, poised performances in August Wilson's Joe Turner's Come and Gone and Terel McRany's The Brothers Size at the Young Vic were matched by work of equal assurance in Romeo and Juliet at the National Theatre and Marat/Sade and A Midsummer Night's Dream at the Royal Shakespeare Company.  He has a lengthy and impressive film and television CV including, and this is exciting for me, a credit for Horrible Histories. He lingers most in my mind's eye for the detail care and force of his performance as in Duncan Macmillan's People Places Things at the National Theatre and in the West End.
But, for somebody so near the beginning of his writing career, it is his writing that most compels me. His first paly Blackta, in 2012, was a searching satire on the racial politics of the acting industry he has worked in with such success. His second play Torn, produced in 2016 down the corridor here in the Royal Court Theatre Upstairs, was one of my favourite plays of the last few years. Taking and then demolishing the notion of forum theatre, brilliantly directed by Richard Twyman and designed by Ultz, it explored the hidden histories of a family of mixed ethnicity ripped apart by sexual and psychological abuse. Linguistically rich and dramatically tense it was the way Martello-White used the structure of the play to carry the ideas of disintegration that I found most startling. For any play it was impressive. For a second play it was breath-taking.