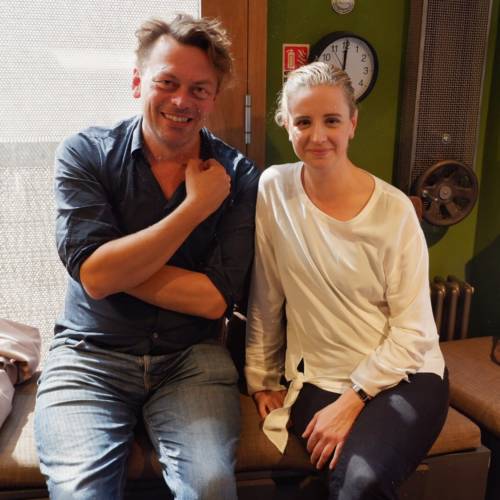 S3 Ep2: Laura Wade talks to Simon Stephens
The following content may contain strong language.
Click here to return to the main podcast page.
To subscribe via iTunes click here.
Full introduction by Simon Stephens:
"There is something of a gesture of disguise to the plays of Laura Wade that I find to be as powerful as it is playful. Her 2005 play Colder Than Here might, for example, have looked like a familiar family drama but was in fact a play scorched in raw grief. Grief disguised as politeness. Her celebrated 2010 smash hit Posh managed to provoke right wing and left wing audiences alike into similar levels of enthusiasm, as in its unflinching portrayal of the kind of drinking club that various Tory Ministers from the last decade attended at University, it lacerated the privilege that some audience members believed it to be championing. Her most recent play, the brilliant, Home I'm Darling which played at the Dorfman Theatre at the National throughout this summer of 2018 has the veneer of a comedy of manners but, for me, skewers the self delusions and destructive yearnings of nostalgia that have driven England onto the cliff edge of economic self-immolation that leaving the European Union appears to be turning into.
Born in Sheffield she has written for stage since she was in sixth form. Her debut play Limbo being produced at her beloved Crucible Theatre there. After graduating from Bristol University where she first met and worked with long time friend and collaborators Tamara Harvey, Harvey directed Home, I'm Darling, Wade worked on a series of plays and adaptations for the children's Theatre Company, Playbox in Warwick and made her London debut at the Finborough with her adaptation of WH Davies' Young Emma.
It was around this time that I first met her when she enrolled on a group at the Young Writers Programme here at the Royal Court. I remember her intelligence and determination, her capacity for irony and her generosity to her peers in her group. It was while she was on the programme that she worked on Colder Than Here and shortly after she left that she wrote the dazzling and disturbing Escher print of a play Breathing Corpses.
Breathing Corpses played in the Royal Court Theatre Upstairs and won her the George Devine Award and Critics Circle Award for most promising playwright.
Posh followed Breathing Corpses here when it opened in the Theatre Downstairs. It was directed by Lindsey Turner, another director who Wade has returned to collaborate with again and again. It earned rhapsodic reviews, transferred to a successful run in the West End and was adapted to film under the new title of The Riot Club. It captured the sense of catastrophe as England, as a nation, was gripped in the pudgy adult hands of those entitled boys that the play so ferociously dramatised.
One of the things I most respect about Wade as a writer is the diversity of her work and the energy of her imagination. She has written for film, television and radio, but also written text performed with the Sidney Opera House. She has adapted novels, Alice from Alice in Wonderland for the Sheffield Crucible, Tipping the Velvet for the Lyric Hammersmith. Her newest play that will open at Chichester this autumn, is an adaptation and completion of Jane Austen's final unfinished  novel The Watsons. It will be directed by her third long term collaborator the actor, director Sam West. West also happens to be her long-term partner and father to her kids.
Her plays return to formal inventiveness with wit and imagination. This inventiveness is counterpointed by an insistent fascination with England as it struggles to define itself in the face of accelerating redundancy. This counterpoint has led to what I believe to be one of the most exciting bodies of work in contemporary playwriting."