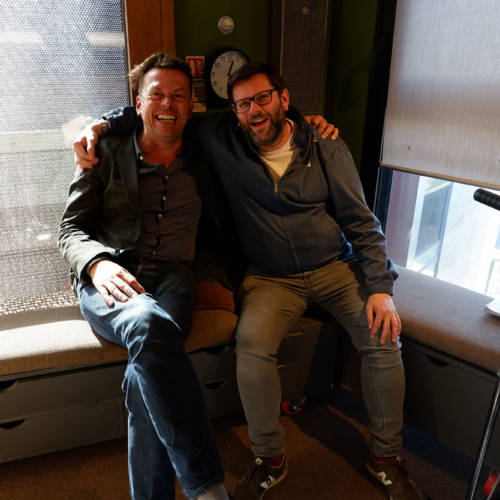 S3 Ep3: David Eldridge talks to Simon Stephens
The following content may contain strong language.
Click here to return to the main podcast page.
To subscribe via iTunes click here.
Full introduction by Simon Stephens:
"There is a clarity and unity of vision to the dramatic world of David Eldridge that seems to land him in a particular tradition of British playwriting that I cherish. Born and raised in Romford, Essex the dramatis personae of many of his plays seem to be born out of the same place and, on a deep level, informed by that world.  Whether it is the charming and furious Sonny and Nick from his 1996 debut Serving it Up, the market traders, schoolteachers, schoolkids and broken souls that populated M.A.D., Incomplete and Random Acts of Kindness, Under the Blue Sky and Market Boy throughout the last decade or the fragile defiant late night party goers of his recent smash hit at the National Theatre Beginning, Eldridge's characters feel like they might have been born on adjoining streets. They feel like they might have gone to sixth form together, or bumped into each other at the Roman Road Market on a Saturday morning or in one of the newer gastro pubs that are dotted around Hackney Wick and Victoria Park, on their way to  the London Stadium to see his beloved West Ham United.
A prolific and successful television and radio writer and maker of elegant and forceful adaptations of European masterpieces he has, for me, defined himself as a dramatist with the force and clarity, humanity and capacity for contradiction with which he has built a dramatic version of London's East End. As much as say Arnold Wesker, Alan Bennett or Roy Williams, David Eldridge has created a territory for his characters to play in that seems somehow shared.
He started writing plays at Exeter University and made his professional debut with Serving It Up at the Bush theatre in 1996. He was 23 at the time. Work at the Finborough, Stratford East, the Battersea Arts Centre and the Donmar Warehouse followed. By the time of his Royal Court debut, the full-hearted, exquisite Under The Blue Sky in 2000 he had before the age of thirty established himself as a playwright of real significance.
Under The Blue Sky was remounted in a successful West End run in 2008 by which time he had become one of the youngest playwrights ever to have a play produced at the National's largest stage the Olivier, 2006's Market Boy.  His plays for the Court are amongst his finest I think. I love the atomised alluring Incomplete and Random Acts of Kindness directed by Sean Holmes here in 2005 and his Chekhovian study of grief and recovery In Basildon, directed by Dominic Cooke in the Theatre Downstairs in 2012, as much as I had my heart filled and broken by The Knot of the Heart at the Almeida in 2011 and Beginning his magical two hander staged with real poise by Polly Findlay in 2017.
He has written for the Globe. He has written too for the intimate space of the Hampstead Downstairs. He has written new English language versions of Ibsen and Strindberg. He has adapted cinema to the stage with brilliant success, Festen opened at the Almeida in 2004 before transferring to the West End and then to Broadway. He has also written a play with me. Well, with me and our friend and mentor and nobody tell him but probably our hero, Robert Holman. 2010's A Thousand Stars Explode in the Sky.
He is a celebrated teacher and has been an articulate and outspoken public thinker about theatre. He has written responses to critics in the Guardian, is clear-thinking and unapologetic in his own essays on theatre, is an outspoken champion of the artistic and structural rights of the playwright and has been a forceful presence in chat-rooms and on social media. I, for one, am old enough to remember his brilliant weekly blog One Writer and His Dog, a love letter to his mighty dog Rascal as much as a space to engage with eloquence and clarity on the contemporary debates around theatre that defined his work.
As much as any of my contemporaries I can think of, his plays offer a beautiful counterpoint between the mess and fragility, uncertainty and eloquence of his characters and the force, specificity and understanding of the political and economic world that he sets them against."