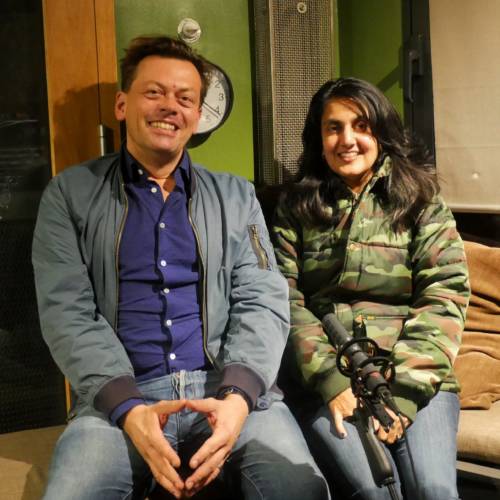 S4 Ep1: Gurpreet Kaur Bhatti talks to Simon Stephens
The following content may contain strong language.
Click here to return to the main podcast page.
To subscribe via iTunes click here.
To listen on Spotify click here.
Full introduction by Simon Stephens:
The protest and controversy that surrounded the 2004 production of Gurpreet Kaur Bhatti's play Bezhiti (Dishnour) at the Birmingham Rep Theatre had several wounding consequences. It kindled an anger and confusion around, towards and from the significant Sikh Community in that city; it left that theatre looking embarrassed by the haste and clumsiness with which it handled the play and then decided to close it early. It led to threats of violence against Kaur Bhatti and her family.
It also has distracted many people, I think from the fierce energy, honesty and clarity of her plays.
Born in Watford, Kaur Bhatti engaged in a theatre education at the Writers Group of the Birmingham Rep in the end of the 90s. At the same time as starting work writing for television and radio she wrote her first stage play Behsharam (Shameless) . It broke box office records at the Soho Theatre and Birmingham Rep when it played there in 2001.
She followed Behsharam with Behzti  three years later. A poised and unflinching consideration of the hypocrisies that lie underneath a local Sikh Community the play culminates in an unsettling dramatization of a rape in the grounds of a Sikh Gurdwara. This dramatic gesture was perceived as sacrilegious by many in the local Sikh community and led to protests outside the theatre. As the protests became increasingly angry and violent the Rep decided to close the play and Kaur Bhatti was advised by the police to go into hiding.
Bezhti is an honest, compassionate play that won the 2005 Susan Smith Blackburn Award and has been translated into French and Italian and enjoyed international success.
Behud (Beyond Belief) , staged at Coventry Belgarde and Soho Theatre in 2010 is an attempt to dramatise the issues that underpinned that controversy.
Kaur Bhatti made her Royal Court debut in 2014 with  the beautiful Khandan (Family). Elephant opened at Birmingham Rep in 2017.
She has continued to write for screen and radio in the decades of her career. She has written for  EastEnders and The Archers alike as well as making successful and warmly received single dramas for BBC and Channel 4.
As we speak she is preparing to go into rehearsal for her newest play A Kind of People, which opens in December of this year.
She has spoken about an early admiration for the passion and fury of Sean O Casey and Fedrico Garcia Lorca. A writer who she claims she is certain to be Punjabi. She shares with those writers a forensic honesty. Her insistent dissection of gender politics and the myths that ultimately sustain and paralyse families alike evokes, to my mind, Henrik Ibsen. Like those in Ibsen's world her characters are defined by the lies that they tell and the stories they believe. She writes with elegance and force about those moments when the lies are revealed and the stories begin to crumble.