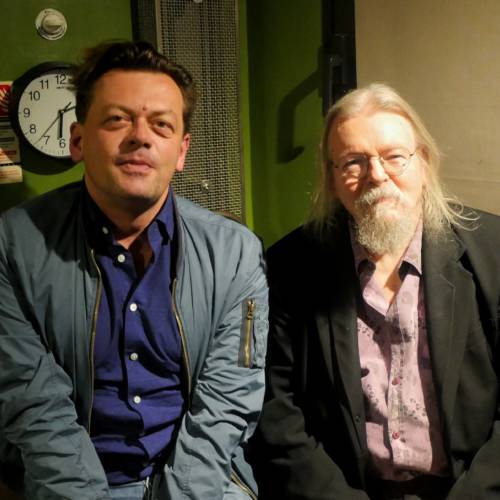 S4 Ep2: Christopher Hampton talks to Simon Stephens
The following content may contain strong language.
Click here to return to the main podcast page.
To subscribe via iTunes click here.
To listen on Spotify click here.
Full introduction by Simon Stephens:
I first came across the writing of Christopher Hampton by accident.
In the early 90s I was flicking though the television. This was in the five-channel days when television was something that was possible to feasibly flick through. I stumbled upon the beautiful English actor Jeremy Irons talking directly to the camera in what appeared to be the adaptation of a stage play. He appeared to be talking with wit and grief alike and excavating the remarkable world of Hollywood as a home for exiles in the Second World War. I'd not seen anything like it on television before.
I was transfixed.
It was, I discovered, the television adaptation of Hampton's 1984 stage play Tales From Hollywood. A sharp and tender exploration of that world and the lives of Bertolt Brecht and his Austrian peer Odon Von Horvath as they made sense of their position within it.
From that point onward I paid particular attention to the name of Christopher Hampton wherever it appeared. I quickly discovered that it is a name that has appeared in many, many, many places.
Born in 1946, Hampton's family moved around the world in his childhood. His father's work for the CABLE AND WIRELESS company took him and his family from Alexandria to Zanzibar.
After what appears to have been a dramatic return to England, Hampton settled into a more conventional schooling at Lancing School in West Sussex where he was a contemporary of David Hare and won House colours in boxing.
He read German and French at New College in Oxford where he wrote and saw produced his first play When Did You Last See My Mother?
A tender exploration of the vitality of a gay love that was still illegal at the time, he sent the play to legendary theatre agent Peggy Ramsay. Ramsay loved it. She took the 19 year old writer onto her books. Sent the play to Royal Court Artistic Director Bill Gaskill who produced it at the Court before transferring it to the Comedy Theatre in the West End in 1966. England won the world cup and Hampton became the youngest playwright to have a play produced in the commercial theatre in the modern age.
Between 1968 and 1970 he was the resident dramatist and Literary Manager at the Royal Court.
Through the course of the seventies he wrote with great elegance and success for the theatre. His work for the Court is, to my mind, defined by a startling diversity of theme and world.
Total Eclipse 1967 is an exploration of the creative and sexual relationship between the great French symbolist poets Arthur Rimbaud and Paul Verlaine.
The Philanthropist 1968, a response to Moliere's Misanthrope ran in the West End for four years won Evening Standard Award for Best Comedy and transferred to Broadway.
1973's Savages dramatised the brutal decimation of the Cintas tribe by the Brazilian dictatorship in the previous decade.
Treats inspired by his work on adaptation of Ibsen's Dolls House. Opened in 1974.
After a thirty-year break from the Court Hampton's version of Chekhov's Seagull was directed by then Artistic Director Ian Rickson in 2006 as part of the theatre's fiftieth anniversary season. Kristin Scott Thomas played Hampton's Arkadina in a beautiful production that transferred to the West End and Broadway.
It is fair to say that he wasn't twiddling his thumbs in the intervening decades.
He has written widely for cinema, with over twenty credits to his name. He has thrived in the Hollywood he dramatised with such guile. He was nominated for an Academy Award for Atonement in 2007 after winning that most celebrated award in 1988 for his screen version of his stage play of Dangerous Liasons. He has collaborated with amongst others Andrew Lloyd Webber on musicals and Philip Glass on Opera.  He has written beautiful versions of plays by Ibsen and Chekhov, as well as more recently and with immense success, Yesmena Reza and Florian Zeller.
However wide his range and diverse his interests Hampton's writing always has a clarity and poise and a formal exploration that moves me. It seems perverse to say of an Oscar winning screenwriter and a writer of several successful shows in the West End and Broadway that I think he is underrated. But I do. He reminds me of his hero Odon Von Horvath, a peer of the more bombastic Brecht, Von Horvath has a formal exploration and a human nuance that I find more complicated and satisfying than Brecht. I find Hampton's writing, its uncertainty and its humanity, its formal reach and quiet daring to be similarly complicated and similarly rewarding. He is a writer I have immense respect for.