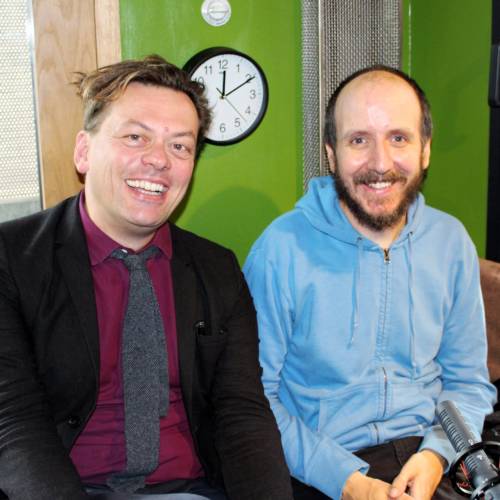 S4 Ep5: Jack Thorne talks to Simon Stephens
The following content may contain strong language.
Click here to return to the main podcast page.
To subscribe via iTunes click here.
To listen on Spotify click here.
Full introduction by Simon Stephens:
One of the challenges of hosting these podcasts is perfecting the art of concision and distillation. There are writers I have had the honour of interviewing whose careers have spanned four, five or even six decades and composing a pithy introduction or marshalling a career interview into an hour can be challenge.
This has never felt the case with a writer who has been writing professionally for a decade and a half.
Today, however, I am interviewing Jack Thorne.
Born in Bristol in 1978 Jack Thorne's dramatic output in the past fifteen years has been simply breath taking. He has written with energy and tireless commitment for radio, television, film and stage alike. He has written the most popular play of the century.  He has written quite beautifully for the Royal Court.
It was here at the Court that I first met Jack when he joined an Introduction to Playwriting Group while I was writers tutor at the Young Writers Programme. I remember a tall, studious, shy writer with the occasional flash of a chuckle and grin. The plays I remember him writing at the time were defined by their darkness. It seemed as though he was making work that cast a fantastical shadow from the legacy of those writers who came out of this theatre at the end of the last century. Mark Ravenhill, perhaps. Sarah Kane or Anthony Nielson.
Some of this darkness lingered in his early work for theatre. When You Cure Me at the Bush in 2005, Fanny and Faggot at the Finborough in 2007 and Stacy at the Arcola in the same year.
But in the years that followed there seems to have been, to my eyes at least, a remarkable deepening and brightening in his work. It may be a coincidence that this deepening and brightening began at the same time as he began of one of the most remarkable careers in television writing of modern times.
Jack Thorne started writing for television, working on Shameless and Skins and co-creating Cast Offs. In the time since then he has gone on to win five Bafta Awards including for his series Shades and his remarkable collaboration with Shane Meadows that led to the This is England series 86, 88 and 90 and Thorne's work co-writing The Virtues. His newest television creation, the adaptation of Philip Pullman's His Dark Materials started last week and was the first TV drama that I've watched excitedly with my kids for about five years.
He has written successfully for film and radio.
In recent years, for theatre, has written new English language versions of Buchner's Woyzeck and Durrenmatt's The Visit. He has made a new musical, Junkyard with Stephen Warbeck. He also adapted Dickens Christmas Carol for the Old Vic, a production that is about to be re-mounted on Broadway.
His theatre work in recent years has been marked by a collaboration with one of this theatre's Associate Directors, John Tiffany.
Together they adapted John Advide Linquvist's masterpiece Let the Right One In. In 2016 their multi award winning Harry Potter and the Cursed Child, co-written with the Harry Potter creator JK Rowling, opened magnificently in the West End. And they have worked on beautiful, tender political studies here at the Court Hope in 2014 and the end of history… which played in summer 2019.
When I think about the darkness of the work that I read for the Young Writers Programme and see the work that has poured from that point, if there is one possible unity I notice in Jack's work, it is a faith in the possibility of the sometimes redemptive, sometimes corrosive power of story. Whether that is the epic volte-face of Scrooge, the horror of Let The Right One In, the heroic yearning of Harry Potter or the political mythologies of the end of history…
It is a faith in and fascination with story that seems to have driven him with astonishing energy and that has underpinned one of the most important dramatic voices of the century.