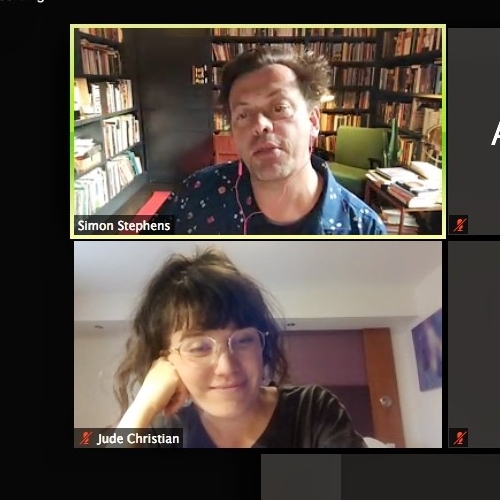 S5 Ep1: Jude Christian talks to Simon Stephens
Series 5 of the Royal Court Playwright's Podcast was released in partnership with Berliner Theatertreffen Stückemarkt.
The following content may contain strong language.
Click here to return to the main podcast page.
To subscribe via iTunes click here.
To listen on Spotify click here.
This conversation has been transcribed and can be accessed here: https://royalcourttheatre.com/podcasts/playwrights-podcast-transcript-of-jude-christian-talking-to-simon-stephens/
You can watch a livestreamed performance of Jude Christian's Nanjing here: https://digital.berlinerfestspiele.de/stueckemarkt/nanjing
All readings/recordings will be available for 24 hours for the 18 May.
Full introduction by Simon Stephens:
Over the course of the last decade Jude Christian has established herself as one of the most exciting directors, dramaturgs, and theatre makers in British theatre. She has directed at most of the major theatres in London, staging new plays at the Royal Court Theatre and the Gate, and she has reimagined Shakespeare's Othello and Macbeth at the Lyric Hammersmith; she has worked as a dramaturg at the Globe on the banks of the Thames and written and directed Dick Whittington, a raucous and magnificent panto, that peculiar Christmas extension of the popular music hall cabaret that defines the theatrical experience in the United Kingdom and entirely baffles the rest of the world. She was made Associate Director of Home in Manchester at the end of the last decade. I worked with her on the 2017 production of Chekhov's The Seagull at the Lyric Hammersmith, where she was Associate Director. She was a collaborator of rigour, intelligence and imagination, with a searing sense of truth.
Over the course of the last decade she has written and developed and performed a quite shattering and unique piece of theatre. Nanjing dramatizes her own exploration of her own history. It is a moving portrayal of her discovery in her twenties of the atrocities that are in England described as the Rape of Nanking, that were carried out against the Chinese people of her grandparent's generation. It is also a play about the last decade and how in that decade the world's sense of its own history has on occasion dug its heels in to notions of simplicity when what was maybe needed was a human acceptance of contradiction. It is a play about the brutality of war in the last century that crystallises in a felt and powerful creed for the urgent need for peace as we embark on our third baffling decade of this one. She performs the piece herself with poise and clarity. It is one of the judges choices for this year's Stückemarkt.