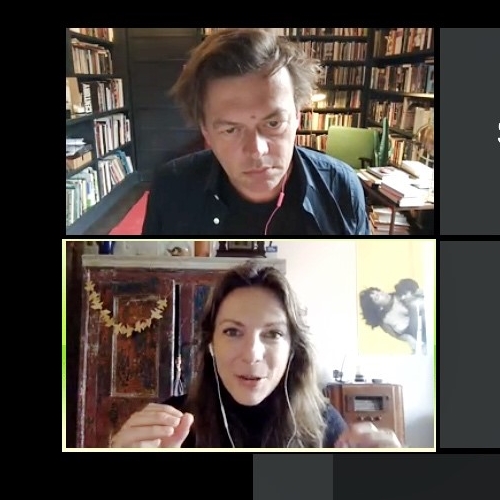 S5 Ep2: Laurence Dauphinais talks to Simon Stephens
Series 5 of the Royal Court Playwright's Podcast was released in partnership with Berliner Theatertreffen Stückemarkt.
The following content may contain strong language.
Click here to return to the main podcast page.
To subscribe via iTunes click here.
To listen on Spotify click here.
This conversation has been transcribed and can be accessed here: https://royalcourttheatre.com/podcasts/playwrights-podcast-transcript-of-series-5-episode-2-laurence-dauphinais-talks-to-simon-stephens/ 
You can watch a livestreamed performance of Laurence Dauphinais' Aalaapi here: https://digital.berlinerfestspiele.de/stueckemarkt/aalaapi
All readings/recordings will be available for 24 hours for the 18 May.
Full introduction by Simon Stephens:
It is indicative of my ignorance that I knew nothing of the work of Quebecoise musician, artist, director, actor and writer Laurence Dauphinais until starting work on this conversation. An ignorance only underlined by the range and success of her work not only in Montreal, where she lives and works, but throughout the world.
Her body of work is defined by its diversity. She was a graduate of the National Theatre School of Canada's acting programme and has acted with success on television, in film and on stage alike. She toured solo work internationally. Her shows iShow and Siri travelling throughout Europe and South America.
She has written and directed Lumens:Game, a generative music and video piece created by Video Phase, has made soulful new electronic music with the Montreal collective Darrick, and is in the process of making her latest co-creation with Maxime Carbonneau, In the Cloud.
Her beautiful piece of documentary drama Aalaapi, which has been chosen for the 2020/21 Stückemarkt, was her debut as solo director. It premiered at the Centre du Théâtre d'Aujourd'hui (CTDA) in Montréal where it won the 2020 Playwright's Prize.
Aalaapi depicts a marginalised group that is hardly ever given a voice in contemporary drama: the Inuit. Dauphinais works in collaboration with radio director Marie-Laurence Rancourt and the two performers Nancy Saunders and Ulivia Uviluk to create a piece that synthesises recorded testimony, hyper naturalistic drama and elegant, poised projection art. It is a haunting study of the humanness and persistence of Inuit culture as it spans the range of Canada and Quebec from the urban energy of Montreal to the coldest, most battered parts of isolation within the Arctic Circle.
Its quiet poetry, imagery and sound felt defined by its humanness. Its cascade of text crystallises the complexities of a multilingual culture and the yearning and impossibility of ever finding the right word. In its study of two performers contained within an isolated home I was surprised to see images of the lockdowns of the last year resonating. In its meteorological brutality it evoked images of climate instability that linger round the edges of so much of our imagination. But in its wit and honesty, restraint and humanity it is built with as much compassion for the community it documents as it reaches out into metaphors that resonate throughout the world.