The Origins of the Living Newspaper
Living Newspaper: A Counter Narrative draws on the radical history of the Federal Theatre Project of the US – a disruptive, responsive, social justice arts programme that mobilised and employed unemployed artists and theatre workers surfacing from the Great Depression; and commissioned plays that dealt with issues of the day under the umbrella of Living Newspaper.   
We asked writer Stuart Cosgrove to tell us more.
Ask anyone about theatre in America and the vast majority will think of Broadway and the avenue of theatres that stretch up through the heart of Manhattan, and which are now synonymous with popular musical theatre, including the highest grossing musical of all time, 'The Lion King', and the hip-hop phenomenon based on the early days of constitutional America, 'Hamilton.' Next to nobody will mention the Federal Theatre Project, one of the most ambitious and radical ideas in twentieth century American culture, a theatre project that in the 1930s, rewrote the rules of public investment in the arts. 
In 1935 America was gripped by depression, the economy had failed, and up to 15 million people were unemployed. To address the economic catastrophe, President Franklin D. Roosevelt launched his New Deal polices, a series of public work projects, financial reforms, and regulations designed to shore up the failed financial marketplace and bring people back into the workplace.
Photograph of the marquee and exterior of the Ritz Theatre during the run of the Federal Theatre Project production of Power. Image courtesy of Federal Theatre Project, Public domain, via Wikimedia Commons.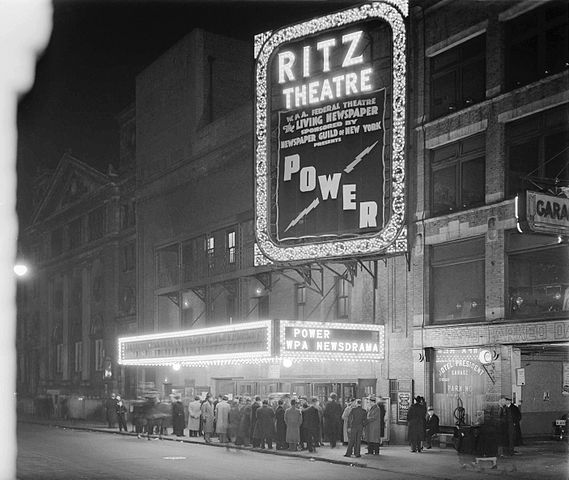 Among the many innovations enabled by the New Deal was a nationwide theatre initiative called the Federal Theatre Project (FTP), arguably the most socially progressive government initiative in the story of American theatre. Perhaps inevitably it had a base on Broadway but it was not conceived as a single playhouse but something closer to  a giant network of companies in small towns, in regional cities and even in the dust bowl encampments where migrant workers eked out a living in land that had been devasted by drought.
The Federal Theatre Project enjoyed high level support from inside the White House. The First Lady, Eleanor Roosevelt proved to be a powerful ally. Having survived a troubled childhood with the loss of both her parents and having to endure the dignity of her husband's extra-marital affairs, she had embarked on a bold and pioneering public life, supporting African American singers to perform at state events in Washington and encouraging the career of women in the theatre.  The woman that was chosen to lead the nationwide theatre organisation was a dynamic academic called Hallie Flanagan, a woman whose knowledge and passion for innovative theatre was legendary.
Flanagan had a formidable task, artistic director, job creation deviser and public bureaucrat. She was diligent about her first objective, to bring actors, playwrights, and technicians off the dole queues and back to work but she also saw the Federal Theatre as an opportunity to enlighten and inspire audiences. Within a year the Federal Theatre Project employed 15,000 unemployed workers, paying them a basic weekly wage of $23.86.
Among the FTP's numerous innovations was a ground-breaking unit in Harlem, called the Negro Theatre Unit, which broke with the racist tradition of minstrelsy and created a vibrant and risk-taking theatre company which counted among its successes an all-black version of Shakespeare's 'Macbeth' transported from ancient Scotland to revolutionary Haiti. The music fed on Harlem's rich reservoir of jazz, modern classical and indigenous Haitian music.
Hallie Flanagan had worked as a professor of theatre history at Vassar College in New York State and taught a course on European Theatre, including the contemporary political theatre of Weimar Germany, including Bertolt Brecht, Erwin Piscator and Kurt Weill. Unknown to Flanagan, many of the theatre pioneers she admired were plotting their escape from Nazi Germany and would soon migrate to America.
One of the theatrical forms she became fascinated with was known as 'Lebende Zeitung' or Living Newspaper, a radical form that dramatized the news of the day to audiences, many of whom were illiterate or starved of news. In conversations with staff at the Federal Theatre Project, she began to imagine a style of theatre that did two things, report on thew news events of the day and employ relatively large numbers of people who could be enticed back to theatre from unemployment.   
Controversy seemed to follow the Living Newspapers like a shadow. The State Department objected to the very first Living Newspaper, Ethiopia, an episodic drama about Haile Selassie and his nation's struggles against Benito Mussolini's invading Italian forces. The U.S. government issued their first instruction, a mandate that the Federal Theatre Project, a government agency, could not depict foreign heads of state on the stage for fear of provoking diplomatic backlash.
Hallie Flanagan at the opening of the production of Macbeth at the Lafayette Theatre, Harlem. Image courtesy of Federal Theatre Project, Public domain, via Wikimedia Commons.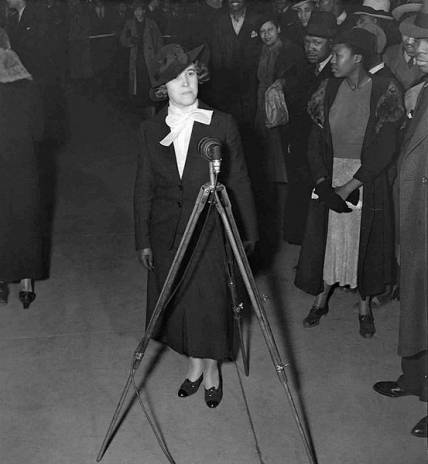 Photograph of the Federal Theatre Project production of Macbeth at the Lafayette Theatre. Image courtesy of National Archives and Records Administration, Public domain, via Wikimedia Commons.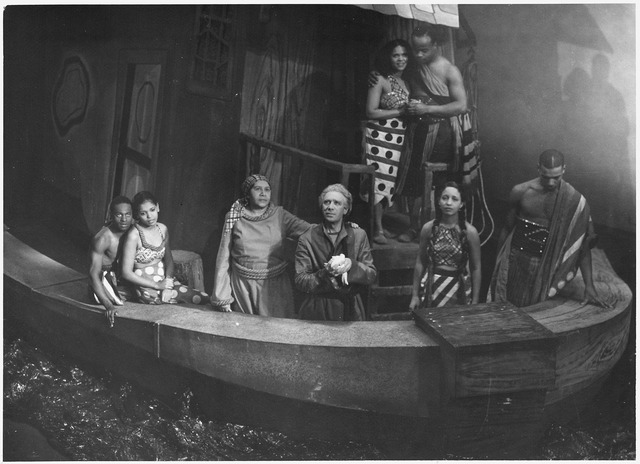 The Living Newspaper was unlike any familiar forms of theatre. It was innovative and often disruptive drama which told stories that were often embedded in short, epigrammatic scenes, rather than a three-act story structure. Another innovation, borrowed from newsreel cinema was the use of projected images and scrolling ticker-tape headlines, both displayed at the back of the stage like the famous updating displays in Times Square. Live shows broke with the Broadway tradition of a fixed evening start time and were often on rolling turnround, available throughout the day and night, the scripts adapted as the news broke.   
Although the Living Newspaper Unit was housed at the Biltmore Theatre on 47th Street, Flanagan had always imagined it as a company that would tour and that the concept would be rolled out to cities across the states.   At its height there were up to a dozen different Living Newspaper shows in production simultaneously and playwrights worked on a shift system, to update, rewrite and reimagine scenes as the news changed and developed.
One of the most successful Living Newspapers was 'Power' an epic production that pulled together stories and disputes about electricity supply and which argued for the New Deal policy of public ownership of the utilities. Harry Hopkins a special adviser to the President sent a note to the cast and crew: 'Now let's get one thing straight: you will take a lot of criticism on this play. People will say its propaganda. Well I say what of it? It is propaganda to educate the consumer who's paying for power.… I say more plays like Power and more power to you."  Another major show was 'Triple-A-Plowed Under', a commentary on the New Deal's Agricultural Adjustment Act and a plea for fairer land legislation and an improved food-chain.
The Seattle Unit of the Federal Theatre Project produced a Living Newspaper that resonates with today's pandemic, its focus was sexually transmitted disease. 'Spirochete' was launched in support of the Surgeon General's declaration of a "war" on venereal disease and presented a dramatic history of syphilis, tracing its virulent spread around the world and its arrival in America with Christopher Columbus.
There were concerns about how to package the production. The most pressing concern was to ensure that the play was not seen as crude titillation, but the FTP were adamant that they didn't want the production to be received as a dry lecture either, and so elements of family drama, dark comedy and harrowing illness were written into the script. Syphilis was a challenging subject and one which challenged the theatre's core middle class audience. To underline the public benefits, the FTP invited prominent local citizens including a catholic Bishop to attend the theatre and be tested. A mobile test and trace unit was set up in the foyer of Seattle's Metropolitan Theatre, to de-stigmatise the idea of being tested. A staff complement of nurses, local doctors and hygienists supported the show. Almost 3,000 people attended the productions, many of them first timers intrigued by the boldness of the idea.
Silkscreen poster for Spirochete, a Living Newspaper play by Arnold Sundgaard produced by the Federal Theatre Project. Image courtesy of Federal Theatre Project, Public domain, via Wikimedia Commons.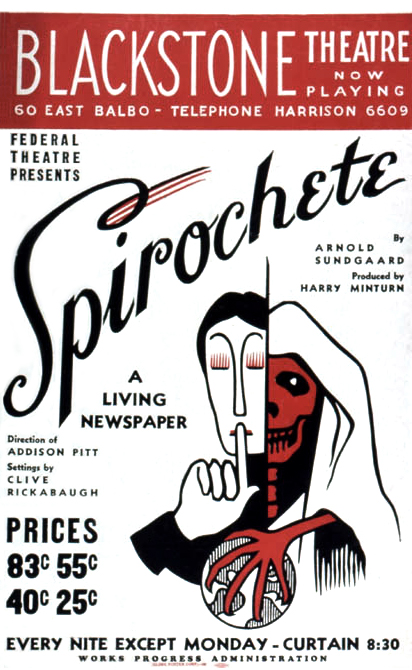 Poster for Federal Theatre Project's Living Newspaper presentation of "Injunction Granted" at the Biltmore Theatre. Image courtesy of Work Projects Administration Poster Collection, Public domain, via Wikimedia Commons.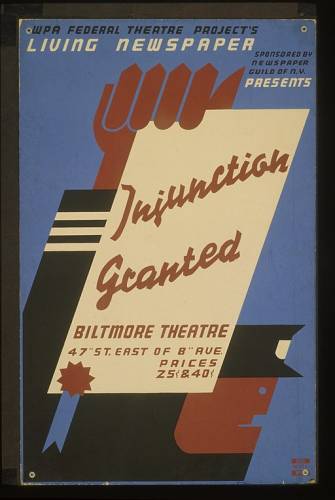 Back in New York, a Living Newspaper called 'Injunction Granted' had generated the greatest controversy. It was a play about labour unions and the way that the court were stacked in favour of employers and never the workforce, the title referred to the ease with which injunctions were granted to prevent strikes. The play was sponsored by Newspaper Guild of New York and written by the Unit's Editorial Staff many of them formerly unemployed newspaper reporters.  The director was Joseph Losey, who had studied with Brecht in Germany and went on to become a film-noir movie director and music was scored by the celebrated modern American composer Virgil Thomson. Talent development was one of the many objectives of the Federal Theatre Project and for a time Losey, Elia Kazan, Orson Welles, Arthur Miller, and Burt Lancaster were all employed on the basic minimum wage. Losey was one of several members of the New York Living Newspaper Unit who subsequently fell afoul of McCarthyism and he was later backlisted along with a generation of his contemporaries. 
By the late 1940s, the Cold war had brought a new kind of political context one which paranoia and suspicion were given oxygen. Years after it had ended as a dramatic experiment, the Living Newspaper Unit came under scrutiny by HUAC the House Unamerican Activities Committee, an early forerunner of McCarthyism. It was accused in the anxieties of the day of being a communist conspiracy and its importance within American theatre history suffered as a consequence.
Since the Great Depression, the idea has been revisited on a small scale usually by University Theatre companies but never with the ambition that the Royal Court has brought to its Living Newspaper project. Nor would anyone have predicted even a few years ago that such an idea would become vital against a backdrop of theatre unemployment and pressing social issues.
Stuart Cosgrove is from Perth, Scotland, and is a writer, broadcaster and author. He was a staff writer with Echoes and media editor of the NME. He has written many books on soul music which has seen him nominated for the Penderyn Music Prize in 2016, 2017 and 2019, and he went on to win in 2018. He is a respected television executive who has won numerous awards including a BAFTA and Royal Television Society award for Channel 4's coverage of the London Paralympics in 2012. Stuart has a PhD in Theatre History including a dissertation on the Living Newspaper, and an honorary Doctor of Arts from the University of Abertay Dundee.