TOILETS
There are accessible toilets on the Stalls and Circle levels of the Jerwood Theatre Downstairs. These toilets are fitted with emergency pull cords and flashing lights, which will warn you in the unlikely event of a fire.
Stalls Access
Door width (door open) – 35in / 89cm Width – 5ft / 152.4cm Length (door to loo) – 70in / 177.8cm Length (door to mirror) – 7ft / 213.3cmCircle AccessDoor width (door open) – 31in / 78.7cm Width (radiator to wall) – 68.5in / 174cm Width (wall to wall) – 6ft / 182.8cm
Length (door to loo) – 67in / 170.2cm
Length (door to far wall) – 81in / 205.7cm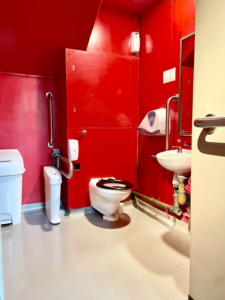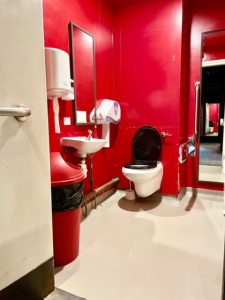 The nearest changing place is located at Victoria Station.
VENUE HIRE
The Royal Court Theatre is available to hire for meetings, events, parties etc. To discuss any access requirements, please contact our Bar & Kitchen on 020 7565 5047 or at hires@royalcourttheatre.com
The Box Office also has an induction loop available. Please tell a Box Office staff member if you would like to use it. As this loop is portable it is possible to arrange its use for meetings, events and hires in other areas of the building. To discuss this possibility, please send your enquiry to info@royalcourttheatre.com
BUILDING AND LIFT ACCESS
As you enter the Royal Court from the front of the building, there are four steps which take you up to the entrance doors. Alternatively, there is a level, stair-free entrance point through the easy-open doors at the right-hand side of the theatre.
From this point, there is a lift that takes you to the:
ENTRANCE FOYER (G) For Box Office, Jerwood Theatre Downstairs Circle and adapted toilet.
STALLS FOYER (B) For Jerwood Theatre Downstairs Stalls, Bookshop, adapted toilet and Bar & Kitchen.
BALCONY BAR (1) For Jerwood Theatre Downstairs Balcony and Balcony Bar.
THIRD FLOOR (3) For Jerwood Theatre Upstairs small foyer
JERWOOD THEATRE UPSTAIRS (4) For auditorium and adapted toilet. Access to this level is only possible once the house has been opened.
The lift is fitted with a voice commentary, low level illuminated controls and tactile aids.
Access to the Bar & Kitchen is by platform lift from the Stalls foyer.