Access Tickets and Seating
Please let us know in advance if you have any specific seating requirements or if there is anything we can do to assist your visit. You can contact the Box Office directly on 020 7565 5000 or boxoffice@royalcourttheatre.com
BOOKING ONLINE
You can now purchase access concessions and seats held for assisted performances online. We offer tickets for access users at £17.50 and a companion or PA ticket at the same rate.
To book tickets with this discount log on to your account at royalcourttheatre.com. Go to My Account > Details and update your access requirements. Access discounts will be applied to purchases in your basket once you have logged in.
Online discounts are limited to 2 per customer per performance. If you wish to book a larger number of access tickets please contact the box office directly.
BOOKING TICKETS FOR ASSISTED PERFORMANCES ONLINE
We hold back seats for customers that want to attend our Captioned, Audio Described or BSL Interpreted performances. These seats are located in the best place in the auditorium to make use of the relevant facility.
Customers can now book these online. In the Jerwood Theatre Downstairs  they will appear on the seating plan marked with a star.
OTHER WAYS TO BOOK
Tickets can be booked by telephone. Lines are open Monday to Saturday, from 12 – 6pm.
Tickets can also be booked in person at the theatre at Sloane Square, Monday to Saturday from 11.30am – 6pm. We have an induction loop on the Box Office for hearing aid users with a T setting.
Customers can also make bookings and enquiries by emailing boxoffice@royalcourttheatre.com.
Please note Royal Court Theatre Box Office is closed on Bank Holidays, Sundays and Saturdays (when there is no production in either theatre).
CONCESSIONS

&

DISCOUNTS
We offer tickets for Access users at £17.50 and offer a companion or PA ticket at the same rate.
SEAT MEASUREMENTS – JERWOOD THEATRE DOWNSTAIRS
All seats have arm rests except Row M of the Stalls, circle slips seats and Row C of the Balcony.
Stalls arm rests can be raised.
Balcony seats have limited legroom.
Seat width – 19in / 49cm
Width between arm rests – 17.5in / 43cm
Depth of seat – 18in / 46cm
Height of seat back – 20.5in / 52cm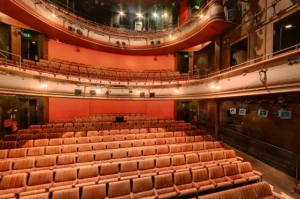 SEAT MEASUREMENTS – JERWOOD THEATRE UPSTAIRS
Seating is bench-style with two people being sat to one bench.
Width of bench – 36in / 91cm
Depth of bench – 15in / 38cm
Height of bench back – 34cm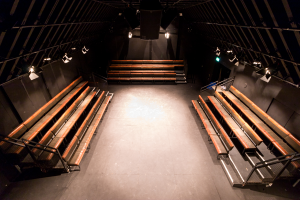 WHEELCHAIRS – JERWOOD THEATRE DOWNSTAIRS
Wheelchair spaces are in the Stalls; in the centre of row J and the end aisle of row K.
Row K of the Stalls has a wide aisle in front of the seats for easy transfer seating also.
Please inform the Box Office in advance as to whether you would like to remain in your wheelchair or transfer to a theatre seat so we can assign you the most suitable seats and/or storage for your wheelchair. Wheelchairs cannot be kept in the aisles of the auditorium.
WHEELCHAIRS – JERWOOD

THEATRE

UPSTAIRS
There is always at least one wheelchair space in the Jerwood Theatre Upstairs. The seating plan varies from show to show so please ask for advice when booking your ticket.
If you wish to transfer from a wheelchair into a seat in the auditorium, please inform the Box Office when booking tickets.
The size of wheelchair that the Jerwood Theatre Upstairs can accommodate varies depending on the production, so please check before booking.
The Royal Court owns a wheelchair, which can be arranged for any patrons who may require assistance to access parts of the building or to travel over slightly greater distances. To arrange this, please contact the Box Office.
In the unlikely event of a fire there are refuge points outside the auditorium on all levels. There are call points at all of these spaces from which the management will operate an emergency evacuation.
If you have specific seating requirements, please contact the Box Office directly.
CONTACT
Telephone: 020 7565 5000
Email: boxoffice@royalcourttheatre.com
Post: Box Office, Royal Court Theatre, Sloane Square, London, SW1W 8AS