A durational installation by Hester Chillingworth
Caretaker by Hester Chilingworth was live streamed from 7:30pm on Friday 8 May 2020 to 5:30pm on 15 Oct 2020.

"I hope that Caretaker has offered a space of respite, contemplation and recharge."  Find out more about Caretaker and read our full interview with Hester Chillingworth here.
Are you longing for some space and a few words of encouragement right now? Artist Hester Chillingworth is offering you our theatre. You can visit (virtually) any time day or night, through their durational installation Caretaker.
Alongside a livestream of the uninhabited stage, witty, playful and supportive audio messages will intermittently be broadcast; more often, there will be silence. No productivity is demanded. Nothing needs to happen and nothing is expected of you. You are, after all, already doing really well.
If you've been missing our stage, if you've never visited it, if you want an intimate experience of it just as we left it, if theatre is the last thing you're thinking about – there is a space being held for you simply to be, and for that to be enough. Log on wherever you are, whenever you want.

Support the Court
Our work with artists and writers continues during this uncertain time thanks to the generous support of our audiences.
Please donate today and be a part of our vital work and its future.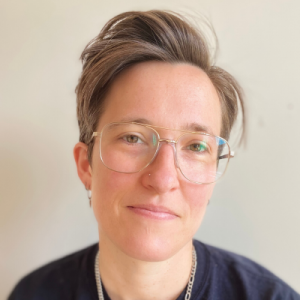 Hester Chillingworth (pronouns: they/them) creates work which is playful and interventionist; work that elevates the everyday, while remaining accessible. Often playing with language, simplicity, interpretation and mischief, Hester's practice sits at a crossroads of live art and theatre. Hester is a Royal Court Jerwood New Playwright 2020 and previously co-curated our new writing event, Queer Upstairs. Recent projects include That Night Follows Day for Forced Entertainment at the Southbank Centre (as co-director with Tim Etchells) and the world premiere of Trainers: or The Brutal Unpleasant Atmosphere of this Most Disagreeable Season, by Sylvan Oswald, at the Gate Theatre (as director). Hester was founder and Artistic Director of experimental performance company GETINTHEBACKOFTHEVAN, whose work toured nationally and internationally.
During Caretaker, the Jerwood Theatre Downstairs was set for Shoe Lady by E.V. Crowe, directed by Vicky Featherstone, designed by Chloe Lamford, which had been running when the theatre was forced to close.