Casting announced for Hole by Ellie Kendrick plus: Take Up Space Cabaret
Published on Mon 29 Oct 2018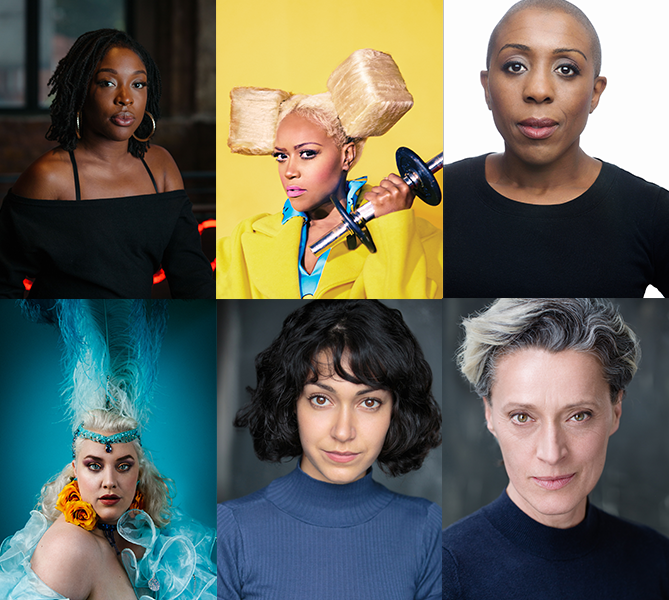 Ronke Adekoluejo, Ebony Bones, Alison Halstead, Rubyyy Jones, Cassie Layton, and Eva Magyar have been cast in the world premiere of Hole, written by Ellie Kendrick and directed by Helen Goalen and Abbi Greenland from RashDash.
With design by Cécile Trémolieres, lighting design by Katharine Williams, composition by Ebony Bones and sound design by Emily Legg.
Hole will be performed in the Jerwood Theatre Upstairs Wednesday 28 November 2018 – Saturday 12 January 2019.
Alongside Hole there will be Take Up Space Cabaret – a late night event in the Jerwood Theatre Upstairs on Saturday 15 December 2018 at 9.30pm.
Acts include: Katharine Araniello in a response to the mundane, social awkwardness and the negative representation of disability; Marisa Carnesky, performing an excerpt from her critically-acclaimed show Dr Carnesky's Incredible Bleeding Woman; cabaret artist Mzz Kimberley; Doris La Trine and her golden toilet get Flushed; Crip Punk Performance company Not Your Circus Dog! with Not F**kin' Sorry; and the 'Notorious V.A.G.' and comic goddess Mysti Vine. Ms Sam Adams is Mistress of Ceremonies.
Curated by Royal Court Theatre Head of Participation Vishni Velada-Billson and Liselle Terret, Co-Programme Leader for University of East London's BA (Hons) Drama, Applied Theatre & Performance.
For more information see the full press release.
To book tickets for Hole visit the show page.
To book tickets for Take Up Space Cabaret visit the show page.