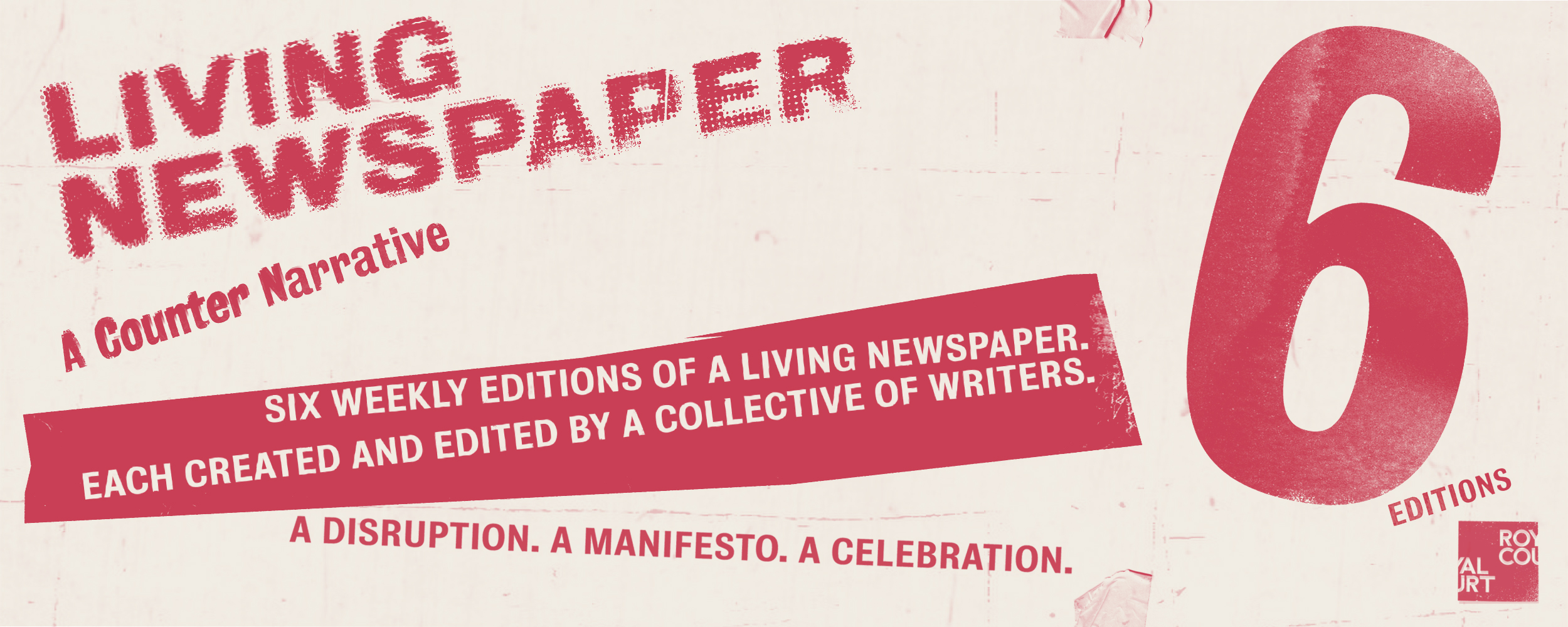 We are working with over 60 writers to create six editions of Living Newspaper: A Counter Narrative.  
Edition 1 and 2 premiered in December 2020, and the project will continue with Editions 3 – 6 after the current national lockdown.
Each edition is urgent, responsive and fast, created within a week – with writers filing their pieces by Tuesday, actors rehearsing on Wednesday, and performing from Thursday, script-in-hand, hot off the press.
We will premiere each edition online in a special digital capture to bring the Royal Court experience to you at home; and, subject to government restrictions, there are also a very limited number of tickets available to watch Living Newspaper in person each week on Thursdays, Fridays, and Saturdays.   
Each weekly edition of our newspaper is created by both a collective of writers responsible for the front page and overall tone of the edition, and contributing writers offering individual pieces. It will include performances relating to the moment we are in with local and global perspectives, longer form pieces, dating columns, a cartoon of the week, the world in pictures, a weather room, agony aunts, horoscopes and much more. 
It will be performed in promenade, taking audiences, in person and online, around the Royal Court building on a journey never before available to the public in this way. 
More than 200 freelance artists will work on the project – as well as the writers – over 60 actors (including a commitment to cast a 2020 graduate each week as part of the company), animators, choreographers, composers, designers, illustrators, lighting designers, sound designers, stage managers and technicians. 
Join the Royal Court Theatre mailing list to stay updated with the latest Living Newspaper announcements.