In Conversation with Ntando Cele
This summer, we're one of three theatres partnering with the Swiss Arts Council Pro Helvetia to deliver a virtual residency programme for Swiss artists who would have taken part in the Swiss Selection Edinburgh 2020 programme at the Edinburgh Fringe.
The residency programme offers the selected artists an alternative opportunity to develop their potential and talent, and build their international profile with a view to future touring and collaboration opportunities in the UK.
Artist Ntando Cele is using the residency to explore some of the ideas underpinning her new work Go Go Othello – particularly the lack of black female protagonists in the theatrical canon. As part of the residency, we've connected her with our dramaturgical team and a range of writers, makers and artists who have worked at the Royal Court or who might inform the show she is making.
The collaboration is part of our International Writers' Programme.
We caught up with Ntando to find out more about her residency.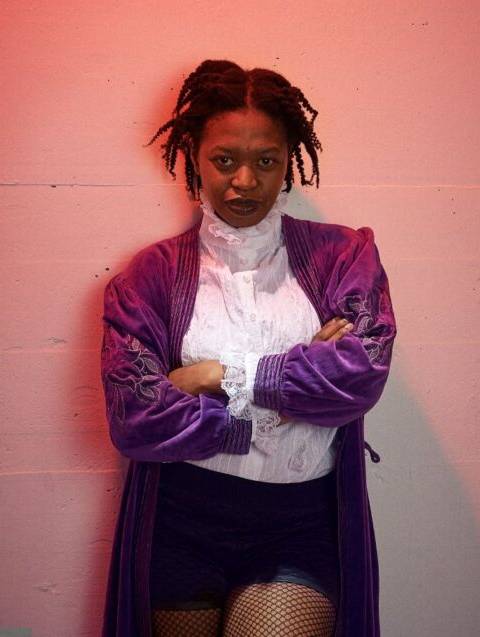 Hi, my name is Ntando Cele and I have been on a virtual residency for a week in collaboration with the Royal Court Theatre, with Pro Helvetia Virtual Residency, and also Edinburgh Fringe.
What are you working on at the moment?
I am developing a show called Go Go Othello. It's not very clear right now what will happen in the show, but what is clear is that it will have several snippets.
Go Go obviously refers to go go dancing, but it's also about the different women of Colour who have passed through European stages. So, one side of it is me and my company Manaka Empowerment Prod. paying homage to the history of these wonderful women, dancers, movers, shakers, influencers, who danced through the stages in Europe, but at the same time looking at them through the white gaze.
Then, looking at Othello: In German theatre, Othello is still either played by a white man who blackfaces himself, or cast with a non-European actor, who is however not Black (i.e. the local opera house staging a production of Verdi's Otello with a Mexican). So, it's a really interesting thing to think about in 2020, and also to try to look at what Shakespeare might have been trying to talk about or what he meant when he wrote the character of Othello. Basically, I'm trying to connect myself into the canon of European theatre history, but also relating it to me today in 2020.
What can you tell us about the residency week? How has it affected your work?
Wow, where to begin! So much happened throughout the week! It's been a really interesting and stimulating week of ideas and conversations. Luckily for me, I was already in my rehearsal space to be able to also incorporate some of the things that I spoke with the other artists about.
Basically, what came out of this week is that we can insert my story into the canon of European theatre history, even if it's temporary, it is possible to do so. But I think, the most interesting thing was to talk to other Black female performers and creators! It was such an intimate and healing exchange with conversations that I think I've never had before in my creative career! So, I feel like I've missed out on a whole universe of how to talk about what I do, and how I do it while creating the piece.
Maybe a collaboration is going to happen between us and Phoebe Boswell, a visual artist who also works with a lot of text and visuals which was super stimulating.
What I also incorporated this week after my conversation with Rachael Young was playing with size, the micro and macro. Those are angles I hardly ever think about.
We also had a conversation with Nwando Ebizie, where we talked about senses and the fact that we only use five, when it is possible to be open to the idea of exploring other senses, because we apparently have about 32! I was completely blown away! Because this also means that it is possible to be able to manipulate the audience into this world of the strip club that we are trying to build within the context of a theatre piece. There are many possibilities to explore.
Great! Any final words?
As final words, I would like to say thank you so much to the people who came up with this idea to connect me and these most wonderful artists. I feel really lucky, because this residency came with perfect timing, in the right place at the right time in my career, to be able to collaborate with other Black female creators and share thoughts and ideas on the notion of this body, this feeling, the stage, these senses. It feels really good!