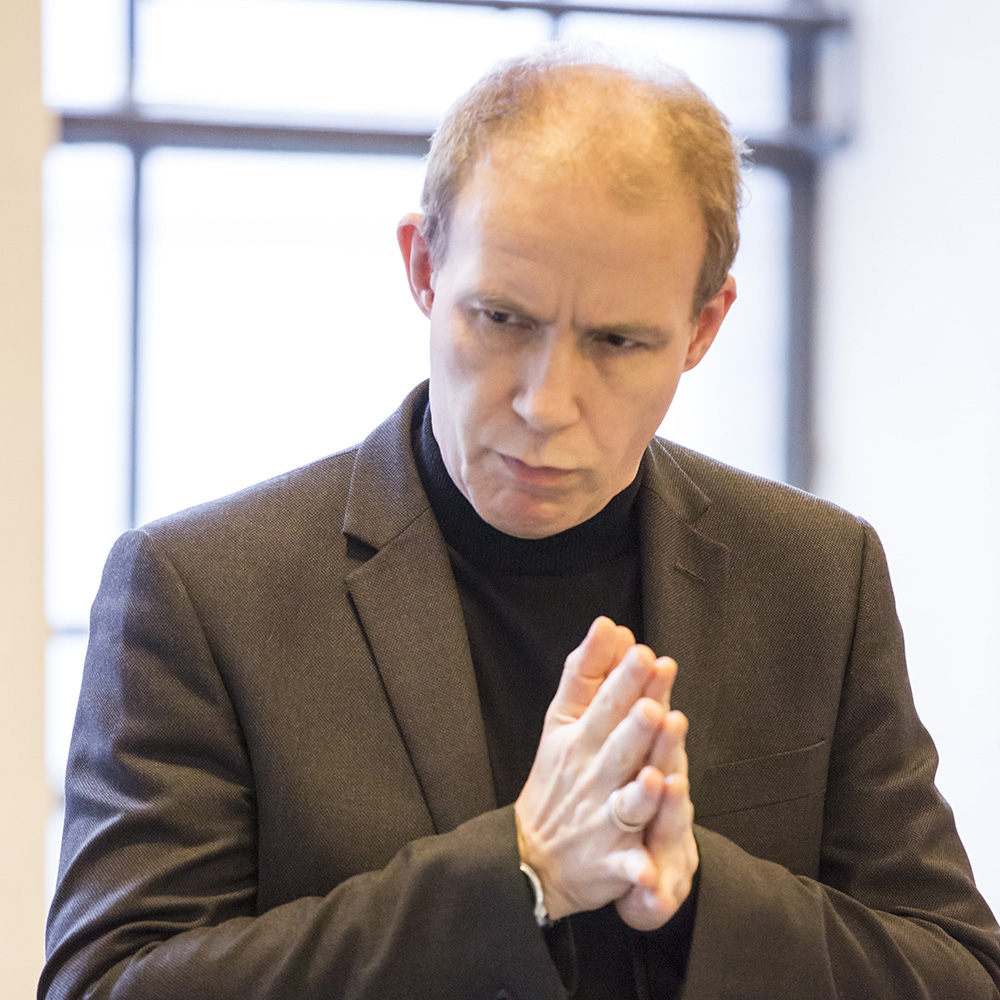 S1 Ep9: Anthony Neilson talks to Simon Stephens
The following content may contain strong language.
Click here to return to the main podcast page.
To subscribe via iTunes click here.
Introduction by Simon Stephens:
"It strikes me that, while it may be true that all artists are defined by their contradictions, few playwrights are defined by contradictions quite so thrilling as Anthony Neilson is. Over the last 25 years he has proved himself to be one of the most consistently surprising and exciting playwrights working in British theatre.  His work, carved as it often is, from the rigorous playground of a rehearsal room in the development of devising is always alert and never boring but it is, for me, most fascinating in its capacity to take me by surprise than just to entertain. His plays from the 90s, most famously Penetrator which opened at the Traverse in Edinburgh before transferring to the Royal Court Theatre Upstairs in 1994 and 1997's Censor that transferred to the Court when it was in temporary residency at the Ambassadors in the West End, are both celebrated for their shocking imagery and visceral force but they are, to my mind, defined more by their tenderness and capacity to celebrate love.
His career this century has been even more richly blindsiding. His exquisite love story Stitching from 2002 was described as "sick" and banned by the Maltese Government resulting in a change in the censorship laws of that country. His lengthy, heart breaking study of mental instability The Wonderful World of Dissocia is one of the most playful and alive theatrical shows I've seen. His study of the drear of a daily mundanity Realism is, in my opinion, spectacular by its capacity to excite and stimulate. Undermining any specious notions of high or low art; on the stage he has directed Opera and also written Christmas shows and best selling farces. He is unusual in my interviewees in these Podcasts because while I am speaking to him he has a play in production here at the Court. Unreachable in itself has proven a rich contradiction. Like all great plays it has inspired confusion and adulation alike.  I saw it in preview and on one hand was at times distracted by the scripts that actors carried in their hands or concerned about their uncertainty, warned as I was by a speech by Anthony at the top of the play that it wasn't really ready. On the other hand, it got under my skin and has lived with me since. Like every writer I have ever spoken to who has been labelled as being part of the stupidly named "in-yer-face" theatre generation he has dismissed that label as meaningless. To me, Unreachable, is a fine and thrilling example of the polar opposite; of theatre that might rather be described as "back of your head". It has sat in my consciousness for three weeks and grown there. It is, I think, a startling play."