This June, award-winning organisation Open Door teams up with Birmingham Rep in Birmingham, the Royal Exchange Theatre in Manchester and the Royal Court in London to deliver three editions of an exciting new event, IGNITE.
Ever wondered what it might be like to be a casting director, lighting designer or sound technician? Fancy yourself as a makeup artist, camera operator or DoP? Don't know what some of these jobs are, or think they're not 'real jobs' with real salaries?
Come along to our Q&A to learn more about the variety of jobs available within the film, television and theatre industry and fire questions at the people who are already doing them.
The creative industry currently employs almost 2 million people in the UK. We want to spread the word about the huge range of roles that exist, get you inspired and arm you with the info and inside tips you need to pursue a career in this creative and inspiring industry. 
Join us here in London on 22 June, and IGNITE your passion for a new career.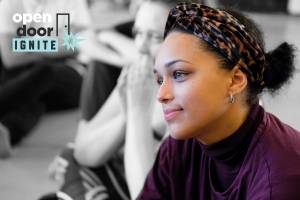 Jerwood Theatre Upstairs
22 June, 5pm
Free
This event can only be booked using a code.
Running time: approx. 1 hour and 15 minutes.
We encourage and support audience members, unless medically exempt, to wear face coverings throughout the venue and in the auditorium, out of respect for others, and in support of the cast. Read full details about your visit to the Royal Court here.