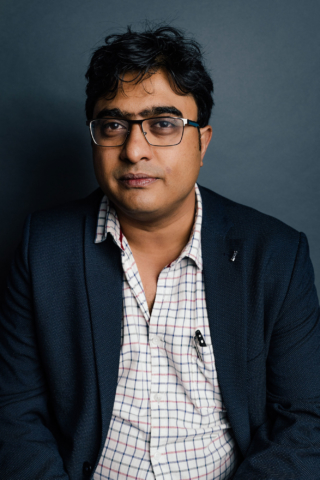 Abhishek Majumdar
As writer, for the Royal Court: The Djinns of Eidgah (& Writers' Bloc Festival, Mumbai/Hindu MetroPlus Theatre Festival, Bangalore/Hamilton Fringe Festival, Ontario); The Ocean (short audio play on Climate Change).
As writer, other theatre includes: Pratidwandi [adaptation] (& Dharwad Theatre Festival), Lucknow '76 (& Alliance Francaise, Bangalore), Harlesden High Street (& Tara Arts), An Arrangement of Shoes (& Cock Tavern/Theatre503/Edinburgh Festival Fringe/Exeter Fringe Festival/Acoustic Arts Festival), Niharika, Dweepa (Ranga Shankara, Bangalore); Land of Ups & Downs (Headstart Academy, Bangalore); Linea Historica/The Prophet (Festival Internacionale de Dramaturgia, Buenos Aires); 399 (Climate Change Theatre Action).
As director, other theatre includes: Waterlines [adaptation] (National Gallery of Modern Art, Bangalore); Gasha (Prithvi, Mumbai/Ranga Shankara/Tour); Thook (Deutsch Schauspielhaus, Hamburg/Ranga Shankara/Goethe Institut, Bangalore/Carriage House, Hartford/Yale); Treadmill (Ranga Shankara/Jagriti, Bangalore/Prithvi/Tour); #supernova (Deutsch Schauspielhaus, Freiburg/Goethe Institut/Theater Freiburg); Tathagat (Jan Natya Manch, Delhi); Eidgah ke Jinnat (Jawahar Kala Kendra, Jaipur).
As writer/director, other theatre includes: Rizwaan (FTII Pune/Ranga Shankara); Kaumudi, Afterlife of Birds, Muktidham (Ranga Shankara/Prithvi/Tour).