Jasmine Lee-Jones' Writing Exercise
Playwright Jasmine Lee-Jones shares an exercise that you can try at home
Jasmine Lee-Jones debut play seven methods of killing kylie jenner was first commissioned as part of the Royal Court's Young Court programme and had a sold out run in the Jerwood Theatre Upstairs in 2019. Jasmine received the Alfred Fagon Award and the Evening Standard Theatre Award for Most Promising Playwright, and has been nominated in the 2020 Olivier Awards for the play.

This is less an exercise one person has showed me and more a composite of a couple of different suggestions and thoughts I've picked up from some amazing theatre artists over the years.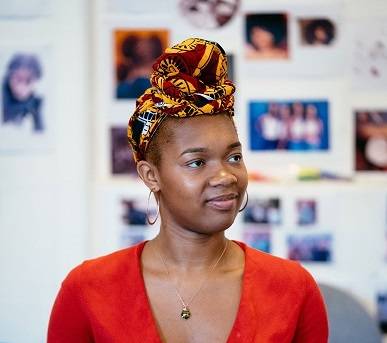 I call this exercise 'THE WORST PLAY EVER'
As a writer I spend a lot of time being fearful. Fearful the play as it exists in my head will not be the thing that makes it down onto paper, that in some way my mind will mess it up and it will get lost in translation. At drama school, my teacher Martin referred to that voice as "the little fucker" and I think it exists in writing too! Instead of ignoring this feeling of fear I've devised an exercise to not only get all of those horrid thoughts out but also put them to use.
I think this exercise is particularly useful if you are either early into a first draft or haven't written one yet but have a kernel of what your play may – or in this case – may not be.

Support the Court
Our work with artists and writers continues during this uncertain time thanks to the generous support of our audiences.
Please donate today and be a part of our vital work and its future.
Set yourself a timer of 3 minutes. In that time write down every possible thing that could go wrong with your play. Think clichés, plot holes, bad lines, or any words that might come to mind, in the random order it comes in your head, in some ways the more scattered the better.
When the timer has come to a stop, take a deep inhale of fear and when you exhale it out make sure it's gone for good.
Now it's time to get to work. Take a look at what you've written and pick out any phrases, words or lines that stick out. When you have a couple that you like, hone it down to one.
Double the time you had on the timer before and now take 6 minutes to write anything that comes to mind based on that one word or line prompt you have plucked from the previous free writing. It might end up feeling like dialogue or a conversation in a scene but don't force it if it's not coming. It might just be a continued moment to explore what comes of following your writing instincts.
When 6 minutes has come to a stop take another deep breath and then exhale. Have a look at what you've written. You might think it's completely rubbish but if there's anything in it – keep it! If you have the impulse to write more, perhaps in an even more structured capacity do! If not, you can now throw it away forever safe in the knowledge that you have written the worst thing possible and now you can write what you actually want to write!