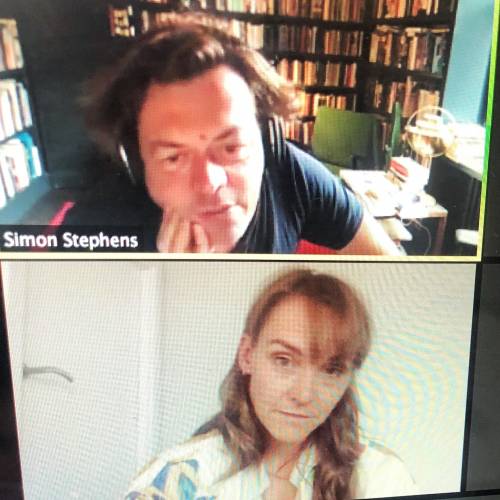 Dutch Singer-Songwriter, Performer & Composer Wende talks to Simon Stephens
The following content may contain strong language.
Click here to book tickets for The Song Project (Aug 17- 28 Aug).
Click here to return to the main podcast page.
To subscribe via iTunes click here.
To listen on Spotify click here.
To read the transcript of this episode, click here.
Full introduction by Simon Stephens:
It's one of the anomalies of the United Kingdom's position as an island nation that not only does it seem to me to assume that every other country in the world is spending most of its time looking on with fascination at what is happening here but it rarely pays any attention to what is happening anywhere else. There are few arenas where this is more clear than in the performing arts.
Throughout the past twenty years the ignorance that British theatre makers have for theatre that is being made throughout the world or that British playwrights have for what is happening in international playwriting has struck me again and again. It reminds me of British attitude to food in the 70s or to football in the 80s. It's not real theatre. It's weird foreign muck.
In recent years I have become aware that the same applies to music. The artist who brought the myopic nature of the British musical world most clearly to my awareness is the startling Dutch singer, songwriter, performer and composer Wende Snijders.
I'd never heard of Wende, as she is publicly known, when I started writing a series of songs with her and for her to perform in the last years of the last decade. The extent of her status, the level of her success was unknown to me. For twenty years Wende has been one of the most celebrated singers and performers in the whole of Europe.
She released her first album in 2004 as a graduate from the Amsterdam Theatre School. A collection of celebrated French Chansons supported by the Metropole Orchestra. The following seventeen years have seen her release nine more albums and tour the continent to sell out audiences. She has sold out runs at Amsterdam's astonishing Carré theatre. She has plundered the European songbook with force and drama and brilliance. She has released haunting electronica. She has performed a compelling version of Schubert's song cycle Winterreise.
Her voice is graced with a haunting soul and yearning. It evokes Kate Bush to me or PJ Harvey or Róisín Murphy or Courtney Barnett but is also touched with a more historical legacy. By the spirit of Édith Piaf, perhaps of Lotte Lenya.
In 2019 she debuted a remarkable exploration of the form of songwriting in the Royal Court theatre upstairs. In a piece of work that she co-conceived with Designer and Royal Court Associate Chloe Lamford she gave the first iteration of The Song Project. Working with playwrights E.V. Crowe, Sabrina Mahfouz, Somalia Nonyé Seaton, Stef Smith and Debris Stevenson and in collaboration with composer Isobel Waller-Bridge and choreographer Imogen Knight, Wende explored the possibility that there are some ideas that couldn't be dramatised, that couldn't be articulated in speech or dialogue but that could, in fact, only be sung.
It was a visceral, forceful evening. She performed The Song Project, like she performs all of her work, with a startling tenderness and savagery and wit. She is a creature of the theatre in her metabolism as much as her training and she brings that theatricality to every moment of her work. The evening is a celebration of light over darkness, of hope over fear of the mess and beauty of the human body. It sings with feminism and physicality. It's coming back to the Theatre Downstairs this summer of 2021.
It is a real pleasure to welcome her here on this special one off episode of the Royal Court Playwright's podcast.